MS9047C / MS9047C+ Intel 845D chipset Processor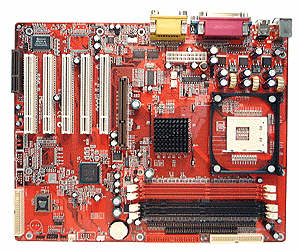 Support Socket 478 for Intel(R) Pentium(R) 4
1.5GHz~2.2GHz or faster Processor
400MHz system interface spee
Chipset
Intel 845 (MCH) and 82801BA (ICH2) chipset
Memory
Supports two 184-pin DDR DIMM maximum size up to 2GB
Supports two 168-pin SDRAM DIMM maximum size up to 2GB (MS9047C+ Only)
Ultra DMA 66/100 IDE Ports
Supports two IDE ports up to 4 ATAPI
devices
Supports up to PIO Mode 4 up to 16.6MBps,
Multi Mode 4 up to 100MBps with bus
mastering
BUS ARCHITECTURE
One CNR slot for Soft audio modem riser only
Five 32-bit PCI slots with full master sharing
controller (Rev 2.2 compliant)
One AGP4x slot
SYSTEM BIOS
AMI System BIOS, supports PnP, APM,
DMI,ACPI & Multi-device
booting features(floppy, LS120, CD-ROM,
HDD(IDE, SCSI), ZIP-ATAPI etc.)
BIOS Wonder technology including ChipAway
Virus, Flash BIOS Write Protect. and PC'98 Spec
Graphics Adapter Slot
Supports AGP 4x mode
CMI9738/4CH AC'97 CODEC
AC97 Codec on board to provide software
audio solution
4CH DAC, applicable for leading motherboard chipsets.
48 LQFP package(pin to pin compatible with 2-channel CODEC) and 24-lead TSSOP package.
I/O INTERFACE
PS/2 Mini-DIN keyboard and mouse ports
Two Channel USB ports
Two D-SUB 9-pin male serial ports
One D-SUB 25-pin female Printer port
One D-SUB 15-pin female Game/MIDI port
Audio Line-out, Line-in and Mic-in jacks
FORM FACTOR
304mm x 244mm, 4 Layers
ATX form factor