History of PowerVR graphics cards
yjfy
The company was founded in 1985 by Tony Maclaren, and subsequently led by him as Group Chief Executive, as VideoLogic and originally focused on graphics, sound acceleration, home audio systems, video-capture and video-conferencing systems.VideoLogicr's GraphixStar series of graphics cards have a small reputation.
1.PowerVR Series 1
In 1992, VideoLogic began independent research and development of PowerVR related graphics technology. In December 1994, it sought to cooperate with NEC. On March 23, 1995, VideoLogic licensed its new technology called PowerVR to NEC, and NEC took a stake and held 2.29% of the shares.
The initial target for PowerVR Series1 was arcade systems.VideoLogic also created PC-based solutions in conjunction with NEC.At the end of 1995, Midas 3, the first product of PowerVR Series1, was successfully developed. Midas 3 is highly integrated and transformed into PCX1, and the 0.5 micron process of PCX1 is improved to 0.35 micron to become PCX2. The 3D performance of Midas 3 is between PCX1 and PCX2. PowerVR Series1 3D performance is stronger than Rendition Vérité V1000, and weaker than 3Dfx Voodoo.The market share of PowerVR series 1 was once second only to Voodoo.
1.1 Midas 3
Midas 3 is the first product of the PowerVR series, which is combined by Image Synthesis Processor (ISP, Sabre) and Texture and Shading Processor (TSP, TexAS), and a bridge chip. ISP is scalable, and the arcade machine can even use two or four ISPs. The PC uses a 3-chip structure with a single ISP and TSP configuration.
Midas3 is 3-chip and uses a split memory architecture: 1 MB 32-bit SDRAM (240 MB/s peak bandwidth) for textures and 1 MB 16-bit FPM DRAM for geometry data (PCI communication). .Core clock/Memory clock:66Mhz,66Mpixels/s fillrate,66Mtexels/s fillrate.Unlike other 3D daughter cards, it abandons the VGA interface,pushed the pixel output over the PCI bus and directly into the 2D card display.
1.1.1 Midas 3
PCB#00QU-3.8/1
Midas 3 is manufactured by VideoLogic, and NEC's model is MC-301. Only Midas 3 is used in Presario 8000 series multimedia and PC enthusiast machines released by Compaq on July 17, 1996.
Midas 3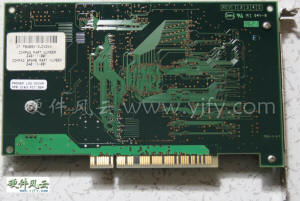 1.1.2 Midas Prototype
This Midas Prototype is an image released by Imagination to commemorate the 25th anniversary of PowerVR. Due to the age, Imagination internal staff can no longer tell whether it is Midas 1 or Midas 2. I think it is Midas 2 because of its high degree of completion. It is a product evaluation board, and Midas 1 should be a chip evaluation board.
Midas 2 needs to be connected to the 2D card in the computer via a VGA cable to superimpose the 3D image. Just like the Voodoo card of 3DFX later, this design will lead to too high product cost. Midas 3 eliminates the image input and output sockets and its auxiliary circuits, and uses the PCI interface to transmit 3D images to the 2D graphics card, saving costs.
Midas 2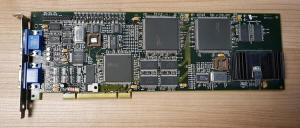 (From Imaginationtech.com)
1.2.PCX1(
Midas 4
)
NEC and VideoLogic announced PCX1 on May 9, 1996. In fact, PCX1 is the product of integrating Midas 3's three chips into one chip. PCX1 adopts 0.5 micron process, PCI interface 3D daughter card, 64bit video memory, 4MB, the core and video memory operating frequency is about 60Mhz, 66Mpixels/s fillrate, 66Mtexels/s fillrate, single rendering pipeline, single cycle, single texture. PCX1 uses TBR technology, which is an important feature in the technology of the PowerVR series of chips, the full name is Tile Based Deferred Rendering. Although PowerVR is not the first company to adopt this rendering method, it has successfully applied this rendering method to its products.
1.2.1 Apocalypse 3D
On January 31, 1997, VideoLogic began to sell Apocalypse 3D, a graphics card based on PowerVR that brings arcade-level 3D performance to PCs at a price of less than $200. Compaq's popular Presario PC series uses it more.
1.2.1.1 Engineering sample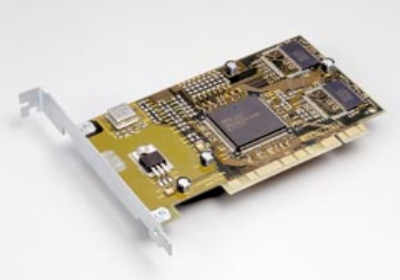 1.2.1.2 Official product
PCB#00RD-3.8/2
The Apocalypse 3D of the PCX1 chip is manufactured by VideoLogic, and the model of NEC is MC-302.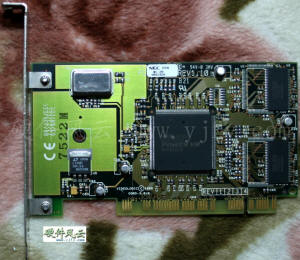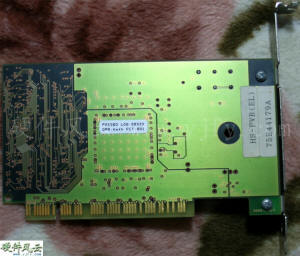 1.2.2 GA-GM3D4/PCI
Under the influence of NEC, the Japanese market not only has manufacturers put into production, but also has a large number of players. I-O DATA has become an important partner.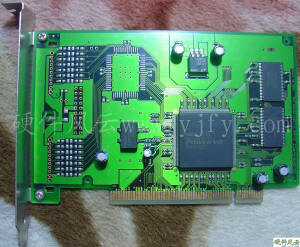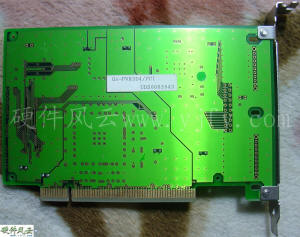 1.3.PCX2(Midas 5)
April 7, 1997-NEC and VideoLogic announced the launch of the PCX2 3D graphics accelerator. PCX2 uses 0.35 microns, 64bit video memory, 4MB, the core and video memory operating frequency 66Mhz, 66Mpixels/s fillrate, 66Mtexels/s fillrate, single rendering pipeline, single cycle, single texture.
1.3.1 Apocalypse 3DX
On April 14, 1997, VideoLogic launched the Apocalypse 3Dx graphics accelerator card based on the PCX2 chip.
The performance of PCX2 has been improved to a certain extent than that of PCX1. It works well when running Quake2 optimized for them. The hardware indicators also outperform Voodoo, reaching a filling speed of 1.2 million polygons per second and 66 million pixels. In the same era The product is second to none. At the same time, it supports D3D, OpengGL, and SGL. SGL is a subset of OpenGL and has been specially extended for PowerVR. However, in actual use, due to compatibility issues caused by the driver, many games have problems running and require high CPU requirements.
1.2.1.1 Engineering sample
PCB#00RR-3.8/1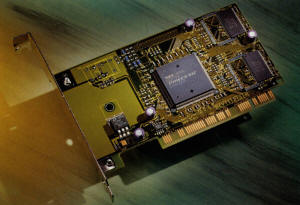 (From Next Generation)
1.2.1.1 Official product
PCB#00RR-3.8/4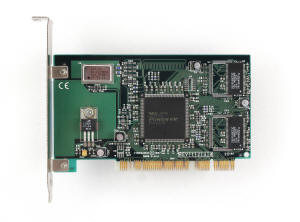 (From vgamuseum.ru)
1.3.2 Apocalypse 5D
On June 9, 1997, NEC and Tseng Labs formed a strategic alliance. On September 4, it announced the launch of the Apocalypse 5D graphics card based on the PCX2 3D accelerator and the Tseng Labs ET6100 2D display chip. There are 6 MB versions (4 MB SDRAM texture memory and 2 MB MDRAM frame buffer memory) and 8 MB versions (4 MB SDRAM and 4 MB MDRAM).
1.2.1.1 Engineering sample
Use Tseng Labs ET6000 2D display chip.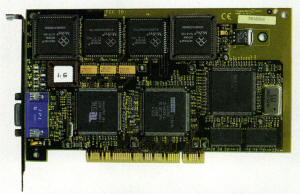 (From Next Generation)
1.2.1.1 Official product
PCB#00RT-3.8/3
Use Tseng Labs ET6100 2D display chip.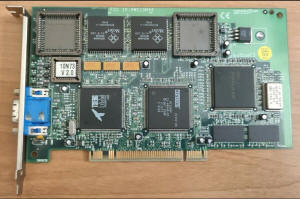 (From westster.top)
1.3.3 Apocalypse 5D sonic
PCB#00RS-3.8/4
Combining the 3D acceleration of Apocalypse 3Dx, the stunning 2D performance of Tseng Labs' ET6100, and the sensational audio quality of SonicStorm(ESS Agogo-XP) on a single PCI card.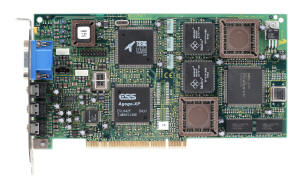 (From vgamuseum.ru)
1.3.4 PC 3DEngine
NEC designs and manufactures PC 3DEngine (PWH-6030) by itself.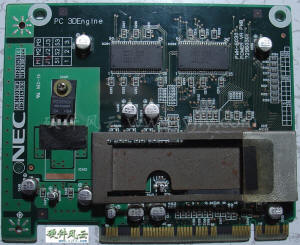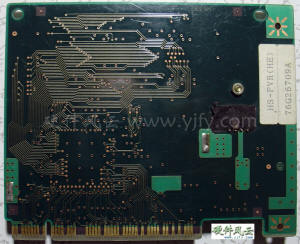 1.3.5 M3D
On August 22, 1997, Matrox Graphics Inc. announced a strategic alliance with NEC Electronics Inc. to launch M3D.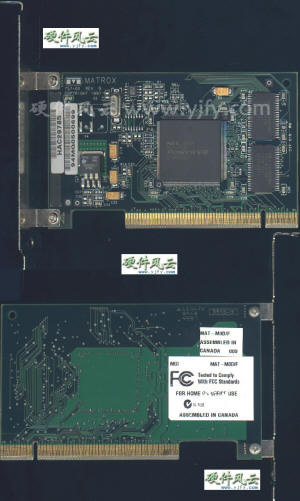 1.3.6 IF-SEGA2/PCI-1
IF-SEGA2/PCI-1 of I-O DATA has Sega gamepad interface.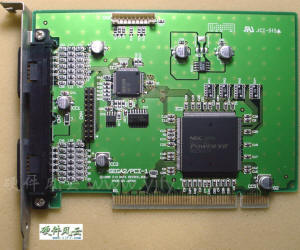 2. PowerVR Series2
In July 1997, PowerVR Series2 defeated 3DFX Voodoo2 to become the graphics processor of the Sega Dreamcast game console. In February 1998, the DC version of PowerVR2DC (CLX2) was successfully developed. The core frequency is 100 MHz, 5 million polygons/second, and 100 to 300 million pixels/second. On November 27, 1998, Sega Dreamcast with integrated PowerVR2DC was launched in Japan.
COMDEX on December 2, 1998 just ended, NEC and Videologic announced the PC version of Neon 250 (PMX1). Since NEC's focus is on the development of DC version products, and its enthusiasm for porting to PCs is not high, some cracks have appeared in the cooperation with Videologic. The Neon 250 was delayed until August 31, 1999. Only Videologic has manufactured the Neon 250 graphics card, and it has a small number of sales in the UK and its online store. Compared with PowerVR2DC, the performance of Neon 250 has shrunk a lot, but its unique TBR technology integrated in the Neon250 display chip effectively reduces the burden on the CPU, and the performance is still close to that of TNT2 graphics cards. Neon 250 core and video memory are 125Mhz, 12Mpixels/s fillrate, 12Mtexels/s fillrate. It adopts SDRAM, 64bit, 32MB video memory, 1 rendering pipeline, and each pipeline has a single texture unit. It has 250Mhz RAMDAC, supports OpenGL (mini-GL), SGL, DirectX6.
2.1 Prototype
2.1.1 ARC1
The code name for the development of the Sega Dreamcast project is Katana. The PC Card in the Katana set 1 development kit (PWH-6031) is based on PCX2, and the PC Card in the Katana set 2 development kit is ARC1 (PWH-6032). The design of ARC1 seems to be based on Midas 3 and PCX2, including a Midas 3 ISP Chip and a chip designed to be updated on the basis of PCX2, Still a 3D daughter card. Katana set 3 development kit and Katana set 4 development kit are still dual chips similar to ARC1, but moved from PC Card to PC Board CLX1. In essence, it still belongs to PowerVR Series 1. The single-chip CLX2 integrated in the Katana set 5 development kit in February 1998 is PowerVR2DC.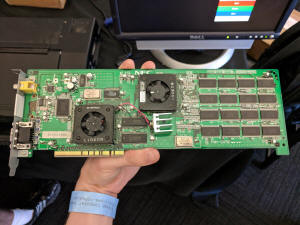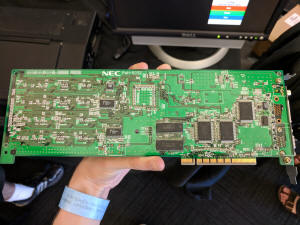 (From shibe ꜰᴩɢᴀ expert)
2.1.2 PMX1
PowerVR Series 2 started with 2D display.
(From Imaginationtech.com)
2.2 Neon250 AGP
2.2.1 Engineering sample
The Neon250 AGP graphics card in the official promotional picture is the Engineering sample.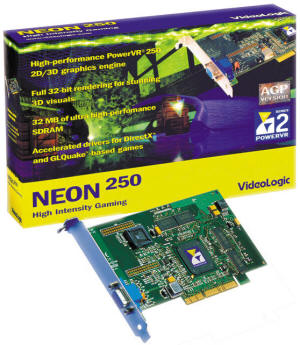 2.2.2 Official product
PCB#00TD-3.8/1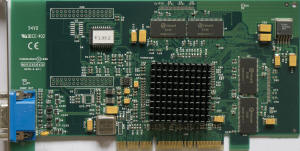 (From Pepino)
2.3 Neon250 PCI
PCB#00TD-3.8/3
The performance of Neon250's PCI interface version is slightly weaker than that of AGP interface version.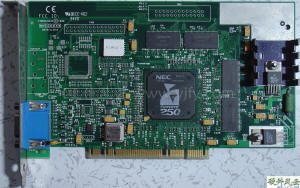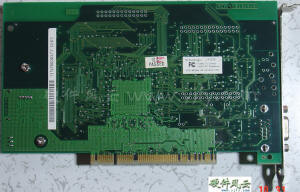 2. PowerVR Series3
8 APRIL 1999,VideoLogic Group Plc (VideoLogic), the international multimedia and graphics company, today announced that it has agreed a strategic partnership with STMicroelectronics (formerly known as SGS-THOMSON Microelectronics) to license VideoLogic's PowerVR 2D/3D graphics technology for the development and manufacture of a range of high performance PC graphics and video accelerators.
VideoLogic changes name to Imagination Technologies.VideoLogic Systems and PowerVR Technology to operate as Divisions.
3.1 Kyro
On June 5, 2000, Imagination announced Kyro (PowerVR third generation), authorized ST Microelectronics to manufacture. Kyro core codenamed STG 4000X, adopts 0.25 micron process, 12 million transistors, display core and video memory are 125Mhz, 250Mpixels/s fillrate, 250Mtexels/s fillrate, 128bit 32/64MB SDRAM video memory. 270Mhz RAMDAC, 2×1 pipeline architecture is a dual-pipeline single-texture unit. Support DX6, EMBM (environment bump map). Continue to use TBR technology to overcome the weakness of not supporting hardware T&L. The performance of its dual-pipeline single-texture unit is not as good as the Geforce 256, let alone the Geforce2 GTS of the same period.
Kyro's core size is small, and the heat generation is also small. The number of transistors is also significantly lower than that of nVidia's products in the same period, which has a higher cost performance. Adopting its chips are VideoLogic Vivid!, Hercules 3D Prophet 4000, Inno3D KYRO 2000, PowerColor Evil Kyro, etc. However, the driver is still not perfect, and sometimes incompatibility and crashes may occur.
3.1.1 Vivid!
3.1.1.1 Engineering sample
PCB#00UD-3.11/1
Reference board.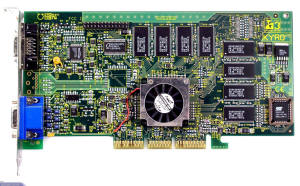 (From IXBT.com)
3.1.1.2 Official product
PCB#00UD-3.11/4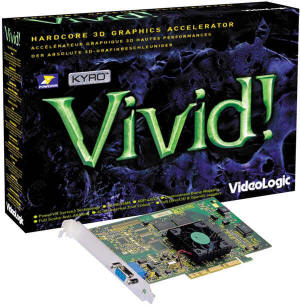 3.1.2 3D PROPHET 4000XT PCI
Hercules designed it himself.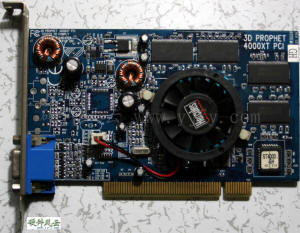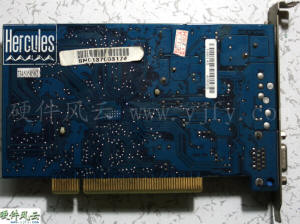 3.1.3 Avenger 4000Kyro
Use reference design.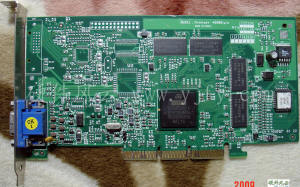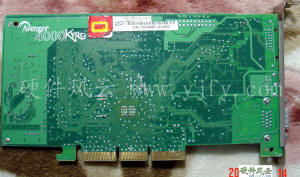 3.2 Kyro II
On March 12, 2001, Kyro II was launched, the core code is STG 4500, using 0.18 micron process, 15 million transistors, core and video memory frequency increased to 175Mhz, 350Mpixels/s fillrate, 350Mtexels/s fillrate, 128bit 32/64MB SDRAM video memory, Double pipeline single texture unit. Kyro II was known as the MX400 killer in the European market at the time, and its performance was weaker than Geforce2 GTS, not to mention the Kyro II rival Geforce3 in the same period. The problem with Kyro II is that the rendering pipeline is too small, the fill rate is limited, and the video memory bandwidth provided by the outdated SDR video memory limits the performance. More importantly, Kyro II still fails to support hardware T&L, and relying on part of the software T&L to try to gain a foothold in the GPU competition has become an impossible task.
KYRO II supports highly efficient Full Scene Anti-Aliasing, Internal True Color , and Environmental and Dot3 Bump mapping. With an exclusive feature set including support for 8-layer multi-texturing, Z32 and ConstantStencil .
KYRO II also includes a fast 128-bit 2D engine, hardware video playback and DVD decode assistance, AGP Bus Master Interface, a 128-bit SGRAM/SDRAM interface with up to 64 Mbyte support, and integrated Palette DAC. A video input port allows connection to a wide range of video source and capture peripherals, while a digital video output port provides glueless connection to flat panel displays and TV encoders.
3.2.1 Vivid!XS
3.2.1.1 Prototype
(From beyond3d.com)
3.2.1.2 Qualification Sample
PCB#00VA-3.11/6
Except for the heat dissipation part, it is no different from the official product.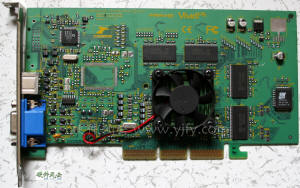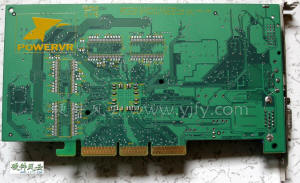 Later revised to PCB#00VA-3.11/7
3.2.1.2 Official product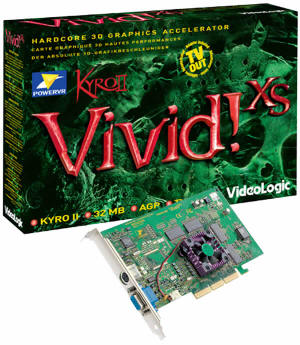 3.2.2 3D PROPHET 4500
Use the reference design of PCB#00VA-3.11/4. Hercules also has a self-designed version.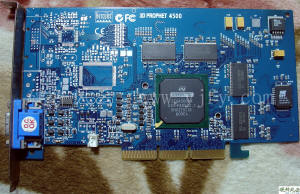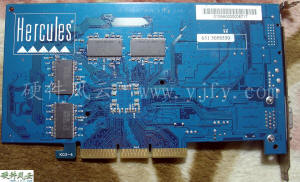 3.2.3 Avenger 4500Kyro
Use the reference design of PCB#00VA-3.11/6.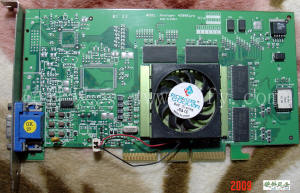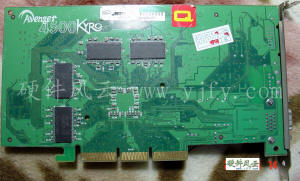 3.2.4 Pixel Perfect GC-K2P-64
Pixel Perfect Display Manager is now able to control up to 9 separate displays all of which may be running at different resolutions and orientations (portrait or landscape). In addition it is possible to mix wide-screen and standard 4:3 resolutions and even support panels from several manufacturers requiring different timing specifications simultaneously. Individual control for orbiter and burn reduction features is also supported.
PCB#00WB-3.11/2 REV 1
The PCB date is 0221 weeks and the PCB is blue.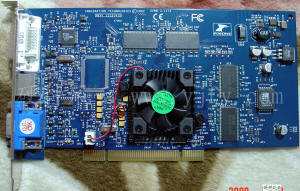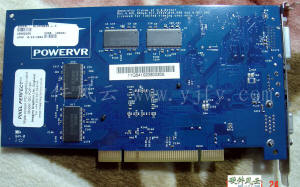 PCB#00WB-3.11/2 REV 2
The PCB date is 0334 weeks, and the PCB color is green, which is often used by Imagination/Vodeologic.
PCB#00WB-3.11/2.1
The PCB date is 0536 weeks and has been operated by Pixels UK Ltd.
The PCB# of Pixel Perfect GC-K2A-64 may be 00WB-3.11/1, AGP interface, I have not seen the real object and picture.Maybe GC-K2A-64 and GC-K2P-64 board types are prepared for Kyro II SE.Kyro II graphics card has such a long life, which has a lot to do with the failure of Kyro II SE.
3.3 Kyro II SE
On March 13, 2002, at CeBIT 2002, PowerVR Technologies of Imagination Technologies announced KyroII SE, the core code name is STG 4800. According to published information, compared to Kyro II, its core and video memory frequency has been increased to 200Mhz.KYRO II SE supports the new EnT&L driver technology which unites the advanced features of KYRO II SE with transform.
It can be seen that KyroII SE is an overclocked version of Kyro II, but it has been simply revised with software T&L support. Because the development of Kyro III with hardware support for T&L is not smooth, KyroII SE is needed to transition. KyroII SE achieves the equivalent performance of Geforce2 GTS and GeForce4 MX 420 in the same period.
Only Imagination's Vivid! XS Elite and Hercules' 3D Prophet 4800 were announced to use KyroII SE chip graphics cards, and they were not on sale.
There are different opinions on why Kyro II SE chip graphics cards are not sold. The reasons may be:
1. The main reason is that in the GPU competition, PowerVR Technologies cannot solve the hardware T&L and is obviously at a disadvantage in the competition. In addition, Kyro II SE is almost an overclocked version of Kyro II, with low reliability.
2. STMicroelectronics closed its corresponding graphics department and decoupled from Imagination.
3. Due to the unique rendering system, Kyro series graphics cards can obtain excellent 3D performance and picture effects at a lower cost, which is suppressed by nVidia and ATi.
Fourth, Imagination announced the Vivid! XS Elite graphics card but not for sale, the hidden meaning is self-evident. What is Imagination doing at this time?
At CeBIT 2002 on March 13, 2002, it also demonstrated its PowerVR MBX core for embedded graphics applications, and Imagination's research and development focus has shifted.
3.3.1 Vivid!XS Elite
It is slightly adjusted on the basis of PCB#00VA-3.11/7. The most obvious change is to adjust the position of the Focus TV-FS451 codec chip from horizontal to vertical. After completing the initial design of Vivid! XS Elite, Imagination will focus on the development of Kyro III and license the design of the Kyro II SE graphics card to Hercules.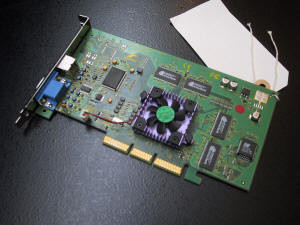 (From hardware.fr)
3.3.2 3D Prophet 4800
3.3.2.1 Prototype
PCB#00VA-3.11/11
The official promotional image of Hercule was leaked in January 2002. The 3D Prophet 4800 graphics card in the image was adjusted on the basis of the Vivid! XS Elite reference board, and still uses Imagination's PCB#.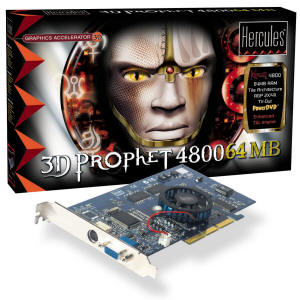 3.3.2.2 Engineering sample
PCB#00VA-3.11/12
The operating frequency of Kyro II SE has been increased from 175Mhz of Kyro II to 200Mhz. The design scheme similar to Kyro II is no longer sufficient. Generally speaking, Vivid! XS graphics cards only use APL1084, and 3D Prophet 4500 graphics cards only use MIC29302. 3D Prophet 4800 graphics cards use both APL1084 and MIC29302 to enhance the power supply circuit.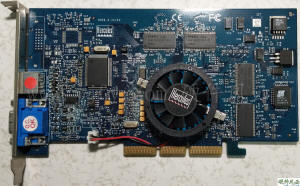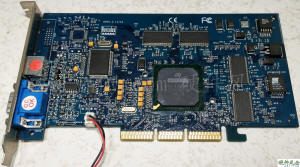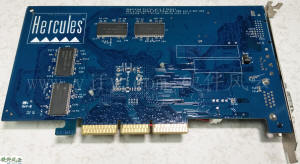 The core date and PCB date of this 3D Prophet 4800 engineering sample are both 0216 weeks, which is mid-April 2002. The core and video memory frequencies are defaulted to 175MHz.
In July 2002, the core date and PCB date of the 3D Prophet 4800 test samples provided to the outside world were still 0216 weeks, but the core and memory frequencies were increased to 200MHz, which shows that Kyro II SE is an overclocked version of Kyro II.
As Kyro series graphics cards were suppressed by nVidia, Hercule had to give up cooperation with nVidia. Cooperated with ATI on January 12, 2002. But ATi also can't accommodate Kyro series graphics cards, although this design can be mass-produced, it ultimately died.
4. PowerVR Series4
The PowerVR Series4 product is Kyro III, the chip name is STG5000, and it will be manufactured using a 0.15 micron process. The core frequency is increased to 300MHz, equipped with 128bit DDR SDRAM that also works at 300MHz as the video memory. Its rendering pipeline has increased from 2 to 4 in KyroⅡ, and the supported texture size has also been expanded from the original 1024×1024 to the current mainstream 2048×2048, so that a more detailed and realistic 3D surface can be obtained. In addition, Kyro III is also the first product in the PowerVR series with a hardware T&L engine.
STMicro previously closed its dedicated graphics card processor division.The original design of the Kyro III, would be technically obsolete, because it would offer hardware compatibility with the Direct3D 7 API, while NVIDIA and even then ATI were at the Direct3D 8 level.The Kyro II SE graphics card cannot be put into production, and the outcome of the Kyro III graphics card can be imagined. This is the end of PowerVR's PC graphics card.
Imagination Technologies moved with PowerVR architectures to the mobile, automotive and medical markets, where it is doing well to this day.
Thank you for the picture information!​