Intel's second-generation discrete 3D graphics Larrabee was first announced at SIGGRAPH in 2008. Larrabee intends to build a stand-alone GPU and GPGPU using the x86 instruction set. It was originally expected that "Larrabee" will be launched in the third quarter of 2008 and officially released in 2009, but in fact there were engineering samples in 2009.

In June 2009, Intel claimed that the prototype of Larrabee was comparable to the NVIDIA Geforce GTX 285. On November 4, 2009, Intel officially announced that Larrabee will not be released as a consumer GPU product. Instead, it will compete with Nvidia Tesla as a development platform for graphics and high-performance computing.On May 31, 2010, Intel completely canceled the Larrabee graphics card project.

Many years later, erek, Binary Nexus and others have conducted in-depth research on Larrabee, especially the Larrabee chart compiled by Binary Nexus seems to have become a complete Larrabee.The research on Larrabee in this article is carried out from the perspective of collectors, which is different from it. Please correct me in time if there are any mistakes. The pictures and materials in this article are mainly from the Internet and collectors' collections, for which I am deeply grateful.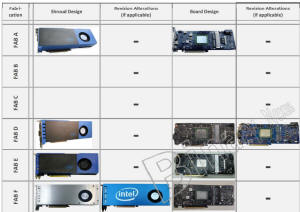 (From Binary Nexus)
1.Larrabee(LRB1)
1.1 Chip evaluation board
1.1.1 early series
1.1.1.1 ComputerBase
The Larrabee chip in the picture from ComputerBase.de is dated 0817 weeks, probably a mechanical sample.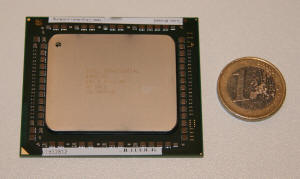 (From ComputerBase.de)
1.1.1.2 Genji不是根鸡
The Larrabee chip collected by Genji不是根鸡 is dated 0902 weeks, and the chip is marked "PRODUCT DETAILS". At this time, there is a corresponding early Chip evaluation board package. It's a pity that this early Chip evaluation board is a secret of Intel, or the real thing has been destroyed.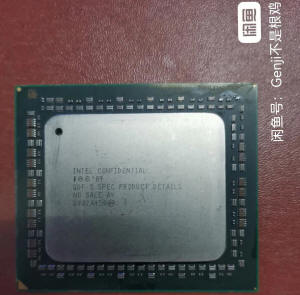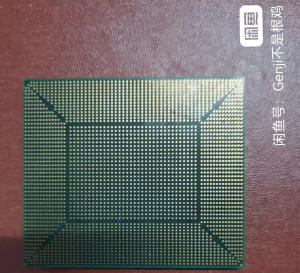 (From Genji不是根鸡)
1.1.2 Middle series
For the time being, only CHERRYPEAK CRB D2 FAB D, Rev 1 is available in this series. Distinctive features: black PCB, no baffle, and no labels such as "Engineering sample".
1.1.2.1 硬件风云
On April 9, 2009 (week 0915), at IDF spring 2009 in Beijing, Intel's Pat Gelsinger demonstrated the Larrabee wafer, claiming that it worked in Intel's lab. It also indirectly announced that LARRABEE is in the stage of chip evaluation board.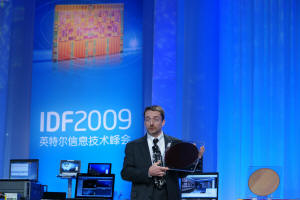 (From sohu.com)
The author's Larrabee is a black PCB, the PCB date is 0910 weeks, the GPU date is 0919 weeks, the card number *114322*, Serial#IWCH92100017, PCB#E47590-004. It is the earliest known chip evaluation board.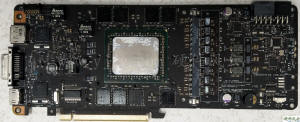 1.1.2.2 AMD_Enthusiast
Larrabee from the AMD_Enthusiast collection, information unknown.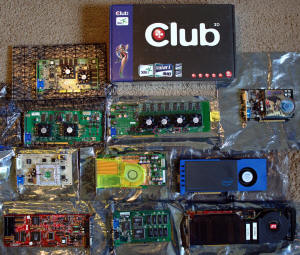 (From AMD_Enthusiast)
1.1.3 Late series
CHERRYPEAK CRB D2 FAB D, Rev 1. Blue PCB.
1.1.3.1 IDF fall 2009
On the afternoon of September 22, 2009, in the speech of Intel Executive Vice President Sean Maloney, Intel demonstrated the actual running effect of the Larrabee graphics card for the first time in history, but only demonstrated a short demo rendering segment.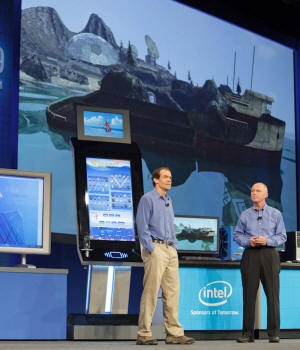 (From cnet.com)
Although the actual Larrabee graphics card was not displayed, a corner of the Larrabee graphics card in the demonstration machine on the booth was secretly photographed. This part of the picture revealed three pieces of information: the Larrabee graphics card is a blue PCB, Serial#IWCH92600004 on the card, VCG Validation#03069394, Larrabee The true appearance of the graphics card can naturally be found in this article.
 
(From hardware.fr)
1.1.3.2 ComputerBase.de
On September 23, 2010, the prototype card released by ComputerBase.de was the first time that the back of the Larrabee graphics card was shown on the Internet. card number *114381*, Serial#IWCH92600017.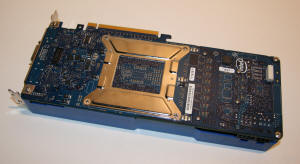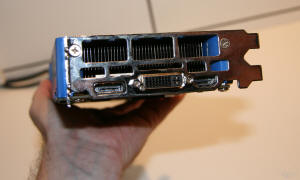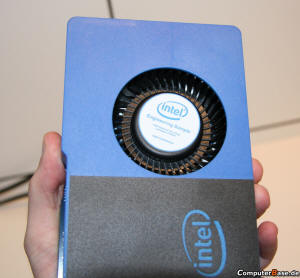 (From ComputerBase.de)
1.1.3.3 Linus
On November 25, 2017, the Larrabee graphics card was auctioned at EABY for the first time, and was auctioned by Linus at a high price of $3,000. PCB date is 2009 week, GPU date is 0923 week, card number *114657*, Serial#IWCH92600186, VCG Validation#03064238.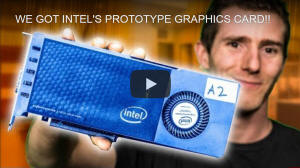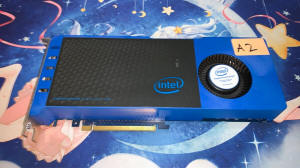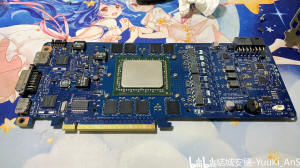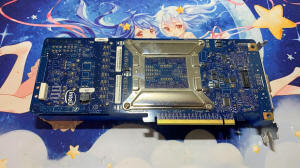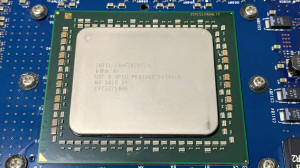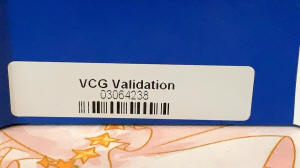 (From Linus)
1.1.3.4 Intel PDF
11 AUGUST 2010,Earlier this week, Intel VP Kirk Skaugen released a PowerPoint slide detailing the rich history of Intel's commitment to HPC innovation, its progression from the Petascale age to the Exascale age of supercomputing, and some hard specifications for its highly parallelized MIC architecture aimed at enterprise markets.There is a picture of Larrabee in the PowerPoint slides, which belongs to this series.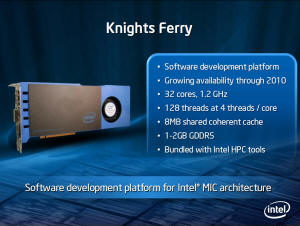 1.2 Product evaluation board

Although Larrabee's Chip evaluation board can only demonstrate a short demo rendering segment, it has been verified that the GPU is basically available. Thus entering the product finalization stage.

1.2.1 early series

For the time being, only EMERALD PEAK CRB FAB B, Rev 1 is available in this series. Obvious features: DVI interface moved from the center to the top, blue PCB and Voltage regulators. Other information is unknown.

1.2.1.1 Brutus

This Larrabee of Brutus is unique and it works. GPU Date 0943Weeks..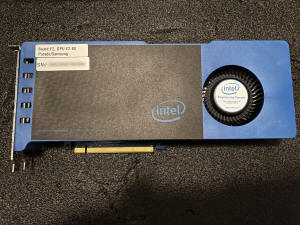 (From Brutus)
1.2.2 Middle series

This series of Larrabee graphics cards is the most collected.

1.2.2.1 Rev 1

CHERRYPEAK CRB FAB E

1.2.2.1.1 ISC 2010

Kirk Skaugen, vice president and general manager of Intel's Data Center Group holding the 'Knights Ferry' Intel Many Integrated Core (MIC) architecture-based development card during his keynote at the international Supercomputing Conference in Hamburg, Germany, May 31, 2010 . Skaugen announced plans to deliver new products based on the Intel MIC architecture that will create platforms running at trillions of calculations per second, while also retaining the benefits of standard Intel processors.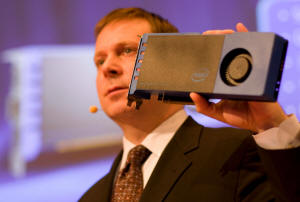 1.2.2.1.2 chiphell.com
On November 23, 2010, the front PCB image of Larrabee was first leaked online.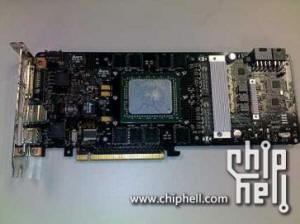 (From chiphell.com)
1.2.2.1.3 Darthgrey
This Larrabee appears to be a Darthgrey collectible and could work. GPU=BO-E1.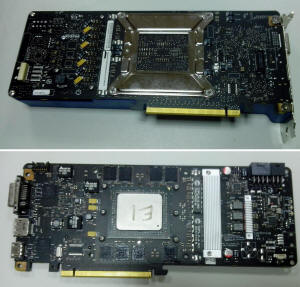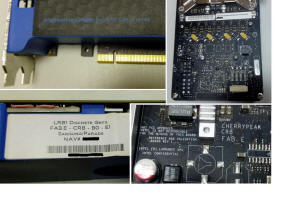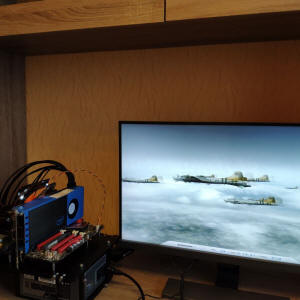 (From Darthgrey)
1.2.2.1.4 finderskeepers922
In November 2022, finderskeepers922 sold Larrabee on eBay at a price of $8,200, which was terminated early, and the final transaction price is unknown. Card number *116340*, GPU=E1, Serial#IWCH94700341, it works.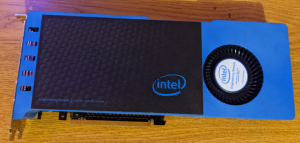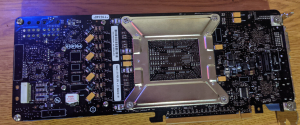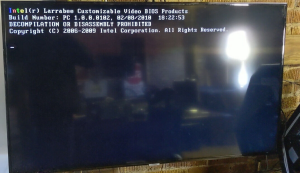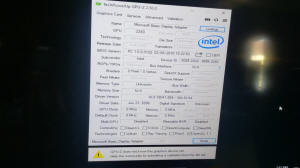 (From finderskeepers922)
1.2.2.2 Rev 2

CHERRYPEAK CRB SJT1 FAB A

1.2.2.2.1 ZZC

ZZC's Larrabee has been removed the BIOS socket and chip, GPU=CO-E1, card number *117983*, Serial#IWCH02000287.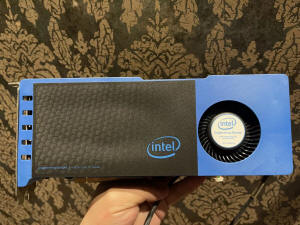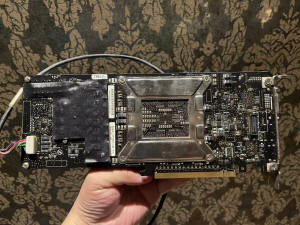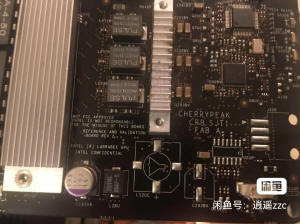 (From ZZC)
1.2.2.2.2 Slaventus
The PCB date of Slaventus' Larrabee graphics card is 1022 weeks (late May 2010), the GPU date is 1017 weeks, GPU=CO-E1, card number *119122*.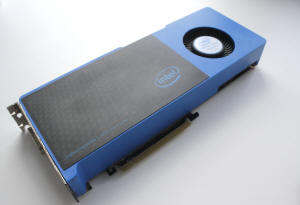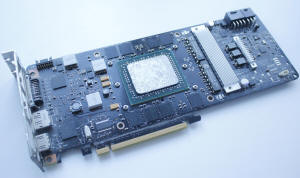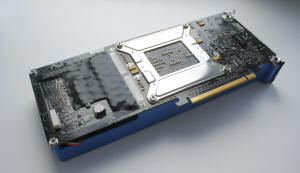 (From Slaventus)
1.2.2.2.3 Captains Workspace
This Larrabee is from captains-workspace.com, there is no more information about this card, it may be the owner's collection.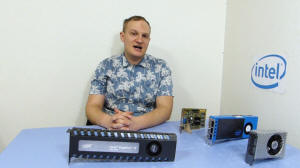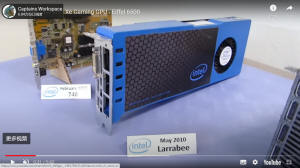 (From captains-workspace.com)
1.2.3 late series

Neither "Rev?" nor "LARRABEE GPU" is marked on the PCB. It is already a Knights Ferry, but it can still be called a Larrabee graphics card with a video signal output interface.

1.2.3.1 leodanmarjod

The Larrabee below, which sold for €4,650 ($5,234) on eBay France on January 31, 2022, works.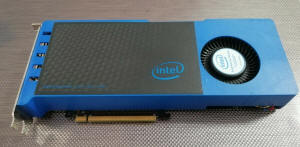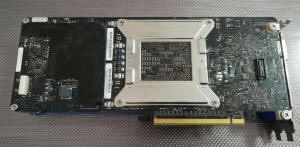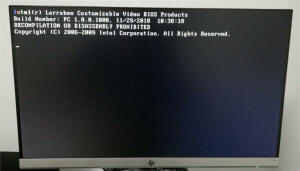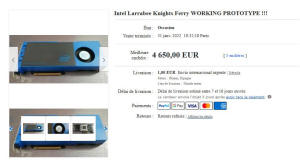 (From leodanmarjod)
1.2.3.2 ZZC
Knights Ferry, which has no video signal output interface, has transformed from a LARRABEE GPU to a Xeon Phi Coprocessor.

This Knights Ferry of ZZC, the GPU date is 1037 weeks, GPU=EB, card number *119524*, Serial#IWCH04000025.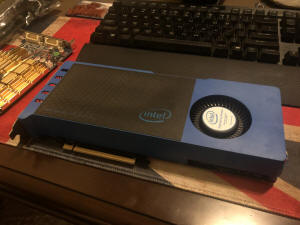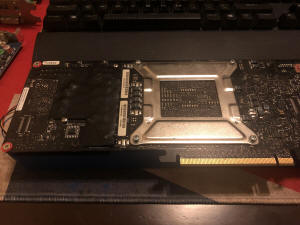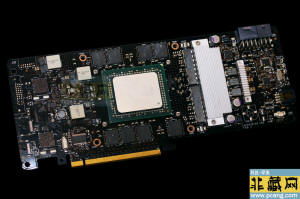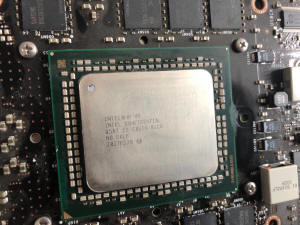 (From ZZC)
1.2.3.3 Binary Nexus
The intel official label on the Knights Ferry of Binary Nexus is the highlight.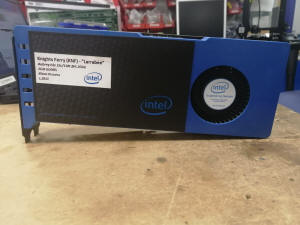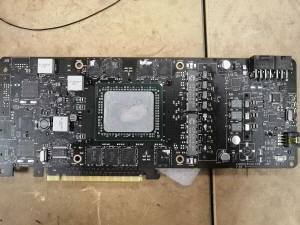 (From Binary Nexus)
1.2.3.3 deadbeef
1.2.3.3 deadbeef

GPU=EO, card number *119222*

This silver-white Knights Ferry is called "Silver Wind". The picture comes from deadbeef's post on linustechtips.com:

"KNC A1s are never intended to be videocards, I think the fact that you have it with some video outputs may just indicate that those ones are either refurbished ones with old PCBs or they just made it out of inertia.

I am unable to find my old pictures with real Larabee which as far as I can remember could work only in text mode out-of-box, but I am pretty sure they had black shrouds. Next gen has metal shrouds and then blue ones. So, you are having almost production grade board, you can download the drivers on official Intel site, but they are for calculations only.

Here are photos of KNF E0 which was the first add in card Intel admited to be a co-processor, not a videocard They are taken in the early 2011."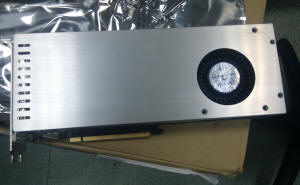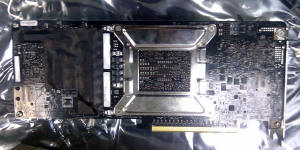 (From deadbeef)
IDF 2011, Supermicro shows off a Larrabee box, the 6016GT-TF with Intel MIC uses two (silver white) Knights Ferry compute cards. The blue Knights Ferry will be introduced later.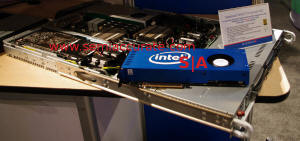 (From semiaccurate.com )
1.2.3.4 结城安穗YuuKiAnS
The Knights Ferry of 结城安穗YuuKiAnS has a big logo.

The GPU date is 1123 weeks, GPU=ED, card number *122928*, Serial#IWCH12600266, PCB#E47590-006.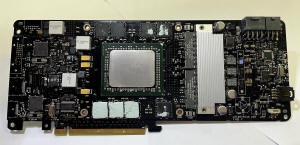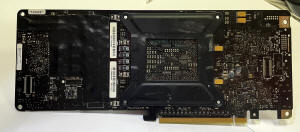 (From 结城安穗YuuKiAnS)
2. Larrabee2(LRB2)

SANTA CLARA, Calif. and HAMBURG, Germany, May 31, 2010 - During the International Supercomputing Conference (ISC), Intel Corporation announced plans to deliver new products based on the Intel Many Integrated Core (MIC) architecture that will create platforms running at trillions of calculations per second.

Targeting high-performance computing segments such as exploration, scientific research and financial or climate simulation, the first product, codenamed "Knights Corner," will be made on Intel's 22-nanometer manufacturing (nm) process – using transistor structures as small as 22 billionths of a meter – and will use Moore's Law to scale to more than 50 Intel processing cores on a single chip.

Industry design and development kits codenamed "Knights Ferry" are currently shipping to select developers, and beginning in the second half of 2010, Intel will expand the program to deliver an extensive range of developer tools for Intel MIC architecture.

2.1 Chip evaluation board

2.1.1 early series

2.1.1.1 Genji不是根鸡

Use Larrabee chip for pre-verification of Larrabee2 chip, such as GDDR5 memory support. Genji不是根鸡 has 4GB GDDR5 memory on this card, and 4GB GDDR5 memory can be installed on the back. This Chip evaluation board should be equipped with Larrabee2 chip test.

GPU date 1020Weeks, card number *120353*.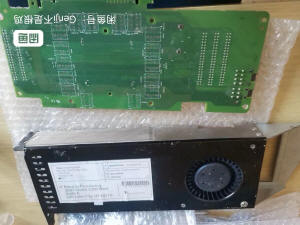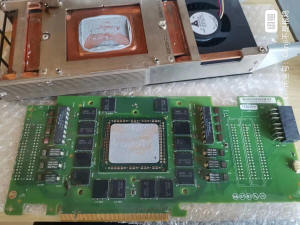 (From Genji不是根鸡)
2.1.2 Middle series

2.1.2.1 Knights Corner chip

On November 15, 2011, Rajeeb Hazra, Intel's general manager of technical computing, held up a Knights Corner chip at the SC11 conference in Seattle and declared: "It's not a PowerPoint, it's a real chip."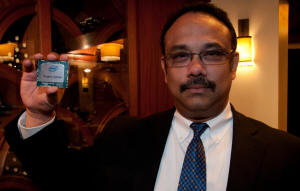 2.1.2.2 Larrabee2 Graphics card

On August 15, 2016, Tom Forsyth of the original Larrabee development team revealed in "Why Didn't Larrabee Fail?":

Remember - KNC is literally the same chip as LRB2. It has texture samplers and a video out port sitting on the die. They don't test them or turn them on or expose them to software, but they're still there - it's still a graphics-capable part.

The author is fortunate to have collected a Larrabee2 Graphics card, which confirms what Tom Forsyth said is true.
 


The PCB date is 3611 weeks, the GPU date is 1147 weeks, and the card number *124711*. Serial#IWCH14900041. 4GB GDDR5 memory, HYNIX H5GQ2H24MFR.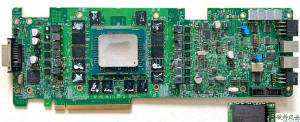 This Larrabee2 Graphics card is actually Knights Corner's Chip evaluation board, which is equipped with a DVI interface. It couldn't be displayed when I tested it on the computer. There are several sets of jumpers on the board. I am afraid that only Tom Forsyth can make it a Larrabee2 Graphics card.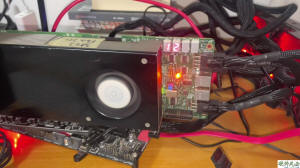 Recognized by the system as a coprocessor (协处理器).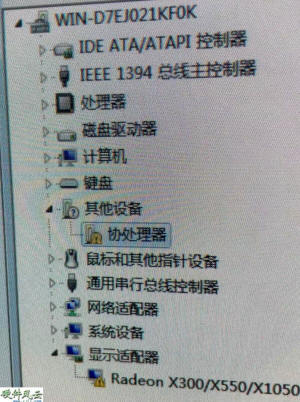 Larrabee1/2 Graphics card comparison: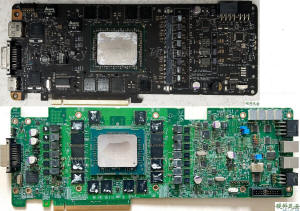 2.1.3 late series
2.1.3.1 Intel Datasheet
The actual picture of the Knights Corner Chip evaluation board comes from the illustration of the Intel Xeon Phi Coprocessor Datasheet, and the card number in the picture is *125038*. 8GB GDDR5 memory.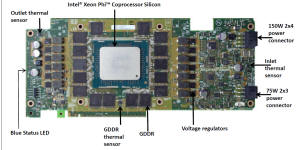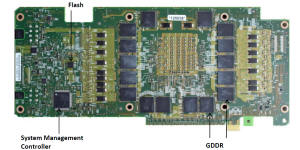 2.2 Produt evaluation board

2.2.1 Xeon Phi Coprocessor

Xeon Phi uses the same 22nm, 3-D tri-gate transistors as Ivy Bridge, and comes as a PCIe card with more than 50 cores and at least 8GB of GDDR5 memory. It has 512b wide SIMD support – allowing for multiple elements to be worked on in a single instruction – and Intel claims it's good for more than 1 TeraFLOPs per node.

3120 6GB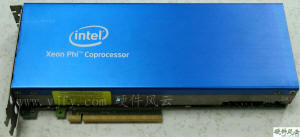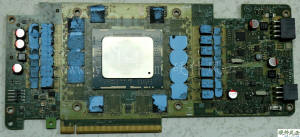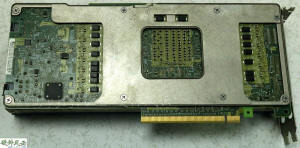 This article talks about Knights Ferry/Aubrey Isle/Larrabee1 and Knights Corner/Xeon Phi/Larrabee2. As for Knights Landing, it has changed too much and has moved away from Larrabee. This article ends with a few pictures.