History of 3Dfx Graphics cards Vol. 1
History of 3Dfx Graphics cards Vol. 1
yjfy
In Mar 1994, Gary Tarolli ,Scott Sellers and Ross Smith, he created a little company called 3Dfx Interactive.On COMDEX on November 6, 1995, 3Dfx announced Voodoo Graphics.On December 15, 2000, 3dfx was acquired by Nvidia.
The 3Dfx Voodoo series of graphics cards once occupied the dominance of 3D graphics cards for five years. The glorious years of 3Dfx have to be m
1.Voodoo Graphicsemorable...
Voodoo graphics chip consists of a texture processor chip (FBI) and a pixel processor chip (TMU).Voodoo Graphics has included level-of-detail (LOD) MIP mapping, bi-linear and advanced filtering and SVGA resolution support. In addition, the chipset delivers realistic imagery through sub-pixel correction, alpha blending, and anti-aliasing.
Voodoo Graphics also supports special effects for even greater game impact. These include per-pixel effects such as fog, translucency, and transparency, texture compositing, a variety of lighting techniques, texture morphing, animated textures, and reflection mapping.
On October 3, 1996, Orchid Technology took the lead in selling Voodoo video card, followed by Diamond Multimedia Systems, Inc. The outstanding 3 D performance of Voodoo graphics card made it occupy 85% of the market in 1997. After more than 20 years, Voodoo graphics cards are still so attractive.
Technical specification of Voodoo Graphics (SST-1) :
Video memory capacity:4/6/8/10/12MB (2/4MB Frame Buffer, 2/4/6/8MB texture buffer.)
Bus type:EDO RAM
Bus interface: PCI
Core clock:50 MHz
Memory clock:50 MHz
Triangle processing speed/s:1M
Pixels/s:45-50M
Textels/s:45-50M
RAMDAC:110 MHz
Maximum resolution:4MB 640x480,6MB 800x600
Fab (nm):500 nm
1.1 3Dfx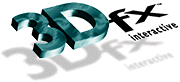 1.1.1 Obsidian Green version Chip Evaluation board
Obsidian SB50-2200 green graphics card is a chip evaluation board. It is the earliest and least Voodoo graphics card known by 3Dfx. PCB date 9615 weeks,There are only 4 cards in the world, which belong to the top 4 graphics card collectors. Obsidian SB50-2200 green graphics card PCB# 600-0002-04, PCB# 600-0002-01/02/03 version did not appear.It may be that none of these 3 versions work, and it is deemed that the core secrets of 3Dfx have been completely destroyed. PCB# 600-0002-04 version is basically available before it can be retained.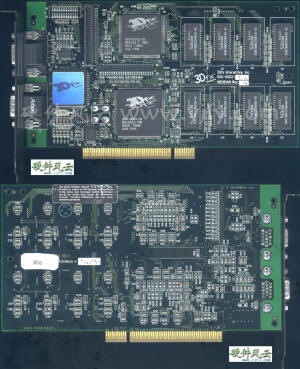 The beautiful 3Dfx Logo laser sticker on the card can easily be mistaken for the DEMO version. The 3Dfx logo and characters on the chip on the card are all sprayed silver paint, which is very three-dimensional, which is different from the usual white printing later.
Pixel Processor TMU chip number 500-0002-01 is packaged in a 208-pin PQFP, chip date 9612 weeks, The official version of the chip is 500-0004-02.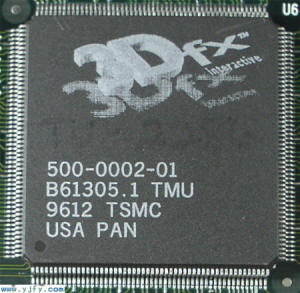 Texture Processors FBI chip number 500-0001-02 is packaged in a 240-pin PQFP, chip date 9609 weeks, 240 pins. The official version of the chip is 500-0003-03.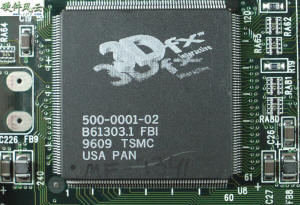 FAB No. 600-0002-04,quite early.FAB No.600-0001-01 is 3Dfx first product "Game Control Interface".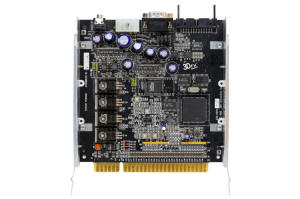 From tdfx.de
1.1.2 Obsidian Black version Chip Evaluation board
The picture of Obsidian Black version Chip Evaluation board is only available on the 3Dfx website. It is similar to the green version in that there are laser stickers and welding positions for square crystals.There is a resistor array at the bottom of display memory is similar to the later version. PCB# is among 600-0003 to 600-0011.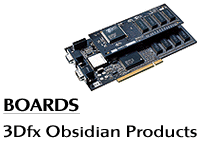 1.1.3 Obsidian Product Evaluation board
Obsidian Product Evaluation board PCB#600-0013-01.
1.1.3.1 Obsidian SB50-2440 Engineering sample
Obsidian SB50-2440 Engineering sample graphics card PCB date is 9619 weeks.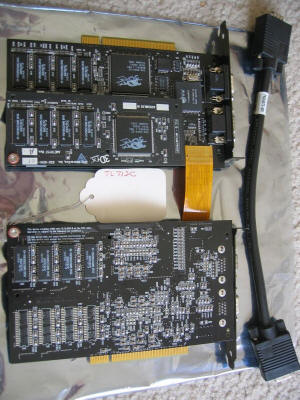 (This picture from 3dfx.cz may be the seller's picture, more than the buyer Gary's picture on the back.)
1.1.3.2 Obsidian 100DB-4440 Engineering sample
In theory, all Obsidian graphics cards can be connected with SLI because they all reserve SLI ports. The first Obsidian SLI object is the Obsidian 100DB-4440 Engineering sample, which is connected by two Obsidian SB50-2440 Engineering sample SLI graphics cards. It is the collection of "King of Voodoo Graphics" Gary.
Obsidian 100DB-4440 Engineering sample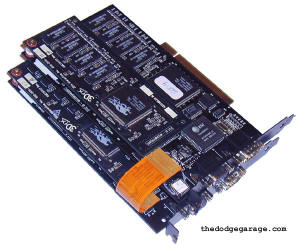 From the figure below, you can see that the original design of the Obsidian PCB#600-0013-01 version of the graphics card does not fully support SLI. Additional components and adjustments to the SLI circuit are required. The problem encountered by this engineering sample is that the Obsidian PCB#600-0013-02 version of the graphics card only strengthens the back SLI circuit part. It was not until the Obsidian pro graphics card specially designed for SLI that the front SLI circuit was perfected and the SLI connection was well achieved.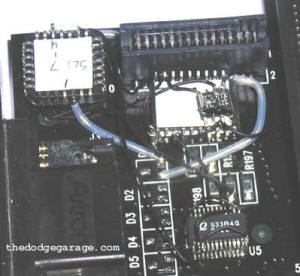 1.1.4 Obsidian
Obsidian PCB#600-0013-02 is a finalized product board. Compared with PCB#600-0013-01 and PCB#600-0013-02 version of Obsidian graphics cards, the main change is that PCB#600-0013-02 version adds P1 interface and The SLI circuit on the back is reinforced.
There are different opinions on the engineering samples of PCB#600-0013-02 Obsidian graphics cards, especially some early PCB#600-0013-02 Obsidian graphics cards are still used in arcades (Arcade), which leads to the general belief that this version does not have Engineering samples, even Qualification Sample is not recognized.
The PCB#600-0013-02 version of the Obsidian graphics card began to paste the ASSY No. label, indicating that it has officially entered the product period from the prototype period, and the PCB#600-0013-02 version is the retail version.
Orchid Righteous 3D passed FCCID certification on July 24, 1996, and did not retail until October 3,And some of the chips used in retail video cards are still engineering samples,As a result, Voodoo chip has problems such as low YIELD RATE and insufficient capacity.3dfx still takes a long time to test and adjust.So there's still Engineering sample or Qualification Sample. in the early Obsidian 02 version graphics cards.The official version of the voodoo chipset number 500-0004-02 and 500-0003-03,Early chips that are not numbered like this are actually engineering sample-level chips.
PCB#600-0013-02 version of Obsidian graphics card has only three PCB dates found, 9624/9625/9628 weeks. The Obsidian whose PCB date is 9624/9625 weeks has Engineering sample or Qualification Sample.

1.1.4.1 PCB date 9624 Weeks
Due to limited information, PCB#600-0013-02 of 9624 weeks is suspected to be the first batch of PCBs, and there are engineering samples in this batch of graphics cards. The PCB#600-0013-02 of 9624weeks has very few Obsidian graphics cards.
Probably because PCB#600-0013-02 is mature and reliable, the remaining small number of 9624 Weeks PCB boards and 500-0004-01 engineering sample chips were used in later graphics cards to produce the following Obsidian SB50-2200 graphics cards.
Obsidian SB50-2200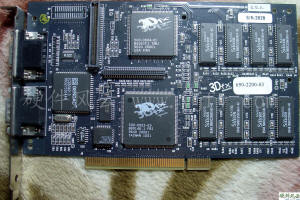 1.1.4.2 PCB date 9625 Weeks
More Obsidian graphics cards with PCB date of 9625 weeks,Using an early chipset or with a "µ test" sticker may be a qualification sample or customer sample, or even an engineering sample. "μ test" seems to be suitable for PC testing, and the tested Obsidian graphics cards are obviously not used for retail.
Obsidian SB50-2200 Qualification Sample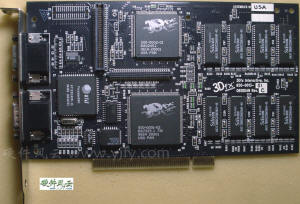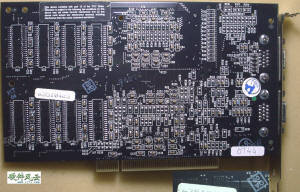 1.1.4.3 PCB date 9628 Weeks
PCB date is 9628 weeks of video card is the official product, the largest number. Most of them are equipped with ASSY No. "650 -???? -??" and "USA" stickers.It is already a Quantum3D product.
Obsidian SB50-2200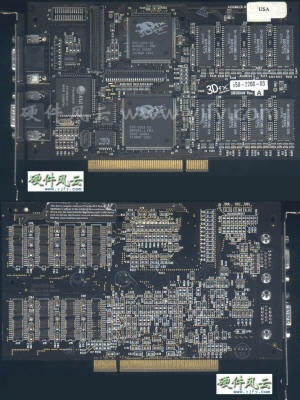 1.1.4.4 Amethyst
Amethyst daughtercard has added a TMU chip, which is simply to make voodoo into voodoo 2, so the number of obsidians equipped with Amethyst daughtercard is very small. After all, 3dfx will continue to sell voodoo 2!It's just that Voodoo2 chip is optimized on the basis of Voodoo chip. The process is also increased from 500nm to 350nm, and the working core clock is increased from 50MHz to 90MHz, and the performance is naturally greatly improved.
The sb50-2200 model is interpreted as follows:
SB50: single card, double card is 100 DB. (50 for 50 Megapixels/Second and 100 for 100 Megapixels/Second.)
2200: the first digit is 2MB of video memory equipped with the FBI chip, up to 4MB at most; the second digit is 2MB of video memory equipped with the TMU chip, up to 4MB at most; the third digit is the video memory equipped with the TMU chip on the Amethyst daughter card, 0 represents that there is no Amethyst daughter card, with the Amethyst card, the video memory can be 2MB or 4MB; the fourth digit is 0, it is rumored that there is a daughter card that can support the third TMU chip, It's never been there.
1.1.4.4.1 PCB#600-0003-01 2MB Engineering sample
This version only has a 2MB video memory version, which is an Engineering sample, and only one piece was found, which is Gary's green Obsidian SB50-2220 original daughter card.
Amethyst 50-0020 Engineering sample & Obsidian SB50-2200 ES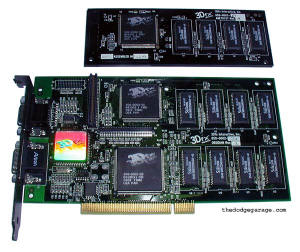 1.1.4.4.2 PCB#600-0014-01 2MB
Amethyst daughtercard used to print fccid number and FCC certification mark, and later used black tape to mask fccid number and FCC certification mark. 3dfx also pastes FCC certification mark on each Obsidian video card, and engineering samples are no exception. This led to the identification of the Obsidian graphics card as engineering sample and qualification sample being misled by the FCC certification mark. Because according to common sense, all FCC certified video cards are official products, and both the Obsidian video card and the Amethyst daughtercard have this FCC certification mark. Through the query of fccid: mh2amepro001, it is found that this ID number does not exist at all, and 3dfx has not passed the ID certification of FCC. Only 3dfx was queried to obtain the grant code of MH2 on April 14, 1998.
The following is a 2MB Amethyst daughtercard with the fccid number covered with black tape. The one equipped with Amethyst daughtercard is Obsidian sb50-4220.
Amethyst 50-0020 & Obsidian SB50-4200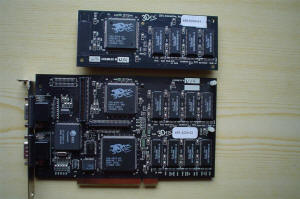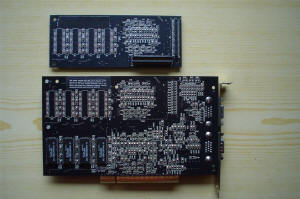 1.1.4.4.3 PCB#600-0014-01 4MB
Here is the Amethyst daughtercard of 4MB video memory.
Amethyst 50-0040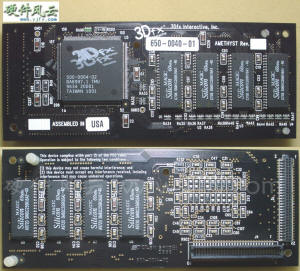 Installed on the Obsidian SB50-4400 graphics card will become the Obsidian SB50-4440 graphics card, which is not much different from the 12MB Voodoo2 graphics card.
Obsidian SB50-4440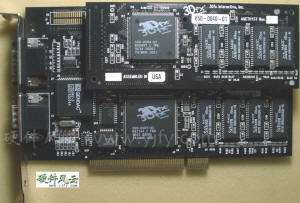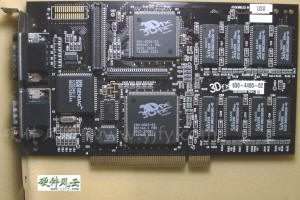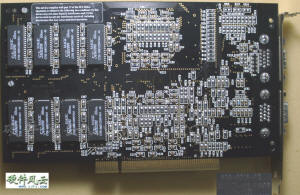 1.1.5 Obsidian Pro
Obsidian PRO is an Obsidian graphics card specially adjusted for SLI connection, taking into account the cost considerations, there are two major improvements, one is to improve the front SLI connection circuit, and the other is to remove most of the resistor array the front memory and other parts.
1.1.5.1 Obsidian PRO
Obsidian PRO graphics card FAB No.600-0013-05, PCB date is 9651 weeks, it can be seen that the completion of this SLI function is difficult, and it took six months to complete.
1.1.5.1.1 SLI Main card
The SLI connection special version is divided into main card and secondary card. The main card of Obsidian PRO SB50-2400 is as follows:
Obsidian PRO SB50-2400 Qualification sample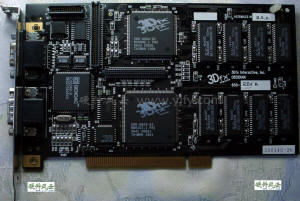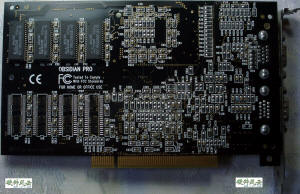 1.1.5.1.2 SLI Secondary card
The Obsidian PRO SB50-2400 Secondary card is the same as the main card, except that the components that are not used for SLI connection are eliminated, see the following figure.
Obsidian PRO SB50-2400 Qualification sample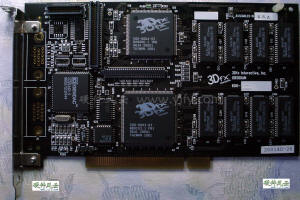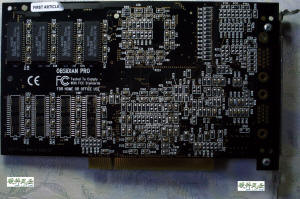 1.1.5.1.3 SLI Cable
SLI ribbon Cable PCB#600-0015-01, dated 9624 weeks.
SLI ribbon Cable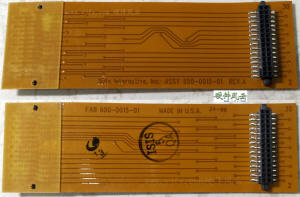 1.1.5.2 Amethyst pro
The Amethyst pro daughter card is the original game daughter card of Obsidian PRO. Compared with the Amethyst daughter card, it mainly reduces the resistor array under the front video memory and 4MB video memory. PCB date is 9651 weeks. PCB# 600-0014-03.

The Amethyst pro 50-0040 daughtercard is shown in the figure below. The upper side is the back side and the lower side is the front side.
Amethyst pro 50-0040 Qualification sample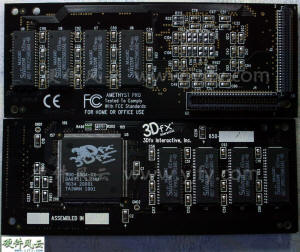 1.1.5.3 Obsidian 100DB-4440 Qualification Sample

Two Obsidian PRO graphics cards installed with Amethyst pro daughter cards are connected by SLI cable to form Obsidian 100DB, also called Obsidian XS100.That is, the SLI connection of two Obsidian pro SB50-2440 graphics cards is the Obsidian 100DB-2440 graphics card. It is called Obsidian 100DB-4440 because it displays Obsidian 100DB-4440 after loading the driver.
Obsidian 100DB-4440 Qualification Sample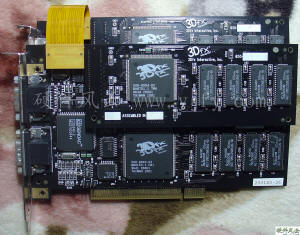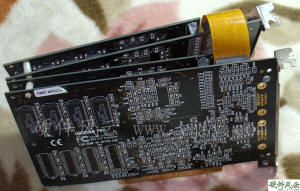 I/ITSEC, ORLANDO, Fl., December 2, 1996 -- 3Dfx Interactive, Inc., along with several of its OEM, VAR, and System Integrator partners, today demonstrated the Obsidian XS-100. Based on an advanced configuration of 3Dfx Interactive's Voodoo Graphics chipset, the Obsidian XS-100 represents the high-end of 3Dfx Interactive's Obsidian family of professional realtime 3D graphics accelerators for PCs. With its 100 Megapixel/second, tri-linear-filtered, texture-mapping performance and $2,500 MSRP, the Obsidian XS-100 enables military and civilian visual simulation application developers and location-based-entertainment (LBE) system integrators to deploy PC-based systems, thereby replacing proprietary image generator (IG) and workstation solutions which typically are ten times the cost of equivalent levels of 3D performance. Current PCI-based 3D graphics products deliver less than one third of the tri-linear fill rate performance of the Obsidian XS-100. The Obsidian XS-100 will be sold through visual simulation and LBE system integrators, VARs, and OEMs this month.
The above passage comes from the 3Dfx website, which shows that Obsidian 100DB graphics card is a 3Dfx development project. In fact, 3Dfx will not be able to sell Obsidian 100DB as scheduled.
The performance of Obsidian's 100DB graphics card is close to Voodoo2 graphics card SLI connection. After SLI connection, the graphics card resolution supports 1024X768, which improves the performance by about 50%.
1.1.6 Obsidian GE
There are several reference boards for Voodoo graphics cards. This Obsidian GE is a relatively late Reference board, PCB#600-0012-05, PCB date 9723weeks.
1.2 Quantum3D
31 March 1997, Founded by 3dfx, Gemini Technology and SGI co-founders, along with former Intel and Sun Microsystems employees including Ross Q. Smith, John Archdeacon, Charles "Herb" Kuta, Dan Downum, Phil Huelson, and Dale Stimson.Separated from 3Dfx on April 8, 1997, took the Obsidian brand and continued to develop 3dfx related products.
The establishment of Quantum3D is essentially the 3Dfx coveted the lucrative profits of the mid-to-high-end Voodoo card market. After Quantum3D was separated from 3Dfx, it participated in the development and production of Obsidian graphics cards for 3Dfx for a long period of time. Finally, it was also sold under the name Quantum3D. After cultivating a good team and accumulating a certain strength, Quantum3D took away the Obsidian brand and Obsidian-related assets, truly independent, and independently developed products.
1.2.1 3Dfx licensed products
1.2.1.1 Obsidian 100DB-4440
Because of the high positioning of Obsidian 100DB-4440 graphics card, the production is very small, and not many people know it, so that when you mention SLI, everyone will think that Voodoo2 graphics card is the ancestor of SLI. Obsidian 100DB-4440 was mainly used in sensitive areas and was destroyed after use. As a result, the remaining amount is extremely low, and only 7 pairs have been collected. The Obsidian 100DB-4440 graphics card, like the green Obsidian SB50-2200 graphics card, is the bellwether card of the Voodoo graphics card that is extremely difficult to collect.
Obsidian 100DB-4440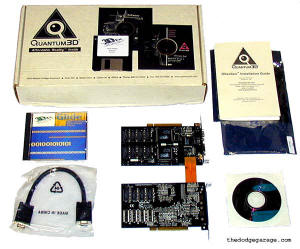 1.2.1.2 Obsidian SB50 series
The "Quantum3D installation guide" of the boxed Obsidian SB50-4440 graphics card is the first edition on August 29, 1997 (9735 week). This shows that Obsidian SB50 is mainly for professional users and avoids retail.
Obsidian SB50-4400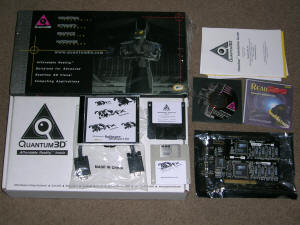 (From edmundoab)
The following Obsidian Pro SB50-2200 graphics cards are produced and sold after Quantum3D is completely free from 3Dfx. Quantum3D uses the more compact Obsidian pro board type.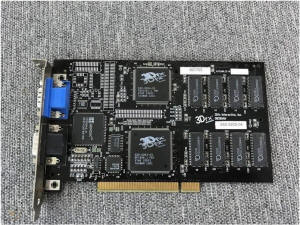 (From worthpoint.com)
1.2.2 Self-Developed products
Quantum3D self-research products are all marked with its own logo.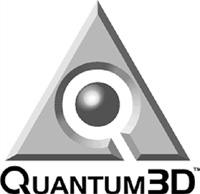 1.2.2.1 Obsidian SB50-4400TV
The Obsidian SB50-4400TV designed by Quantum3D has a video output and the Amethyst daughtercard is eliminated.
Obsidian SB50-4400TV


1.2.2.2 Obsidian 100SB-4440
Obsidian 100SB-4440 puts the two-card SLI Obsidian 100DB-4440 mentioned above on one card SLI. This design is very Niubility.
Obsidian 100SB-4440



1.3 Orchid Technology
Nov. 6, 1995 Orchid Technology announced the development of a 3D game board for consumers based on Voodoo graphics.
March 20, 1996 Micronics Computers, Inc. and its wholly owned subsidiary, Orchid Technology, today announced a strategic alliance with 3Dfx Interactive, Inc. to develop an integrated system solution for the arcade game industry and peripheral products for the personal computer market. Orchid Technology will develop its "Righteous 3D" TM graphics accelerator card based on the 3Dfx Voodoo chipset and Glide API.
October 3,1996 Righteous 3D ships to direct sales customers. (NEWS from www.orchid.com)
1.3.1 Righteous 3D BIOS version Engineering sample
Orchid as the earliest partner of 3DFX. When March 20, 1996 (9612 weeks) announced the development of Righteous 3D graphics cards, the earliest Obsidian green version of our 3DFX collection graphics cards (9615 weeks) had not yet been finalized. Righteous 3D's FCCID: DDS7EFF06964M3DFX was approved on July 24, 1996 (9630 weeks). The general FCCID certification takes about three weeks, so it seems that Righteous 3D is 9626 weeks finalized, which is almost the same as 9625 weeks of 3DFX finalization date. The Righteous 3D promotional image below is the one that has passed FCCID certification. It can be seen that Righteous 3D was originally designed with BIOS.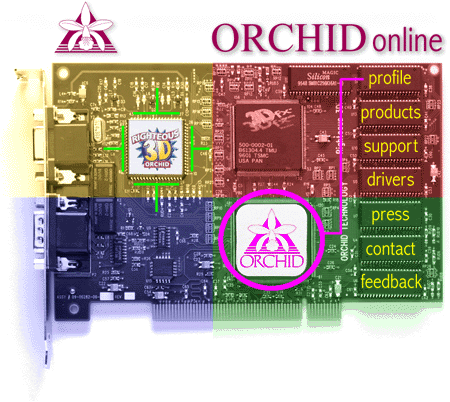 The following Righteous 3D BIOS version graphics card PCB date is 9626 weeks, which is the earliest non-3Dfx original engineering sample graphics card. This version of the Righteous 3D graphics card ended up not retailing.
(From dusty-voodoo.com)

1.3.2 Righteous 3D Triode version
Righteous 3D is commercialized in the Triode version.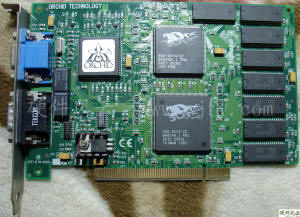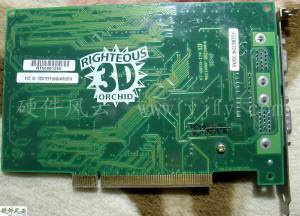 1.3.3 Righteous 3D later version
Triode for Righteous 3D graphics cards was later cancelled.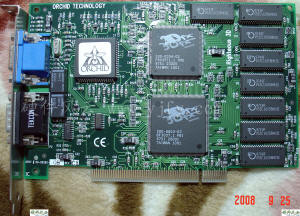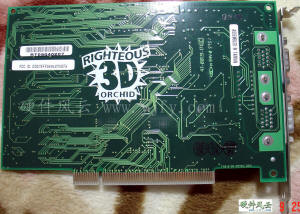 Another feature of the Righteous 3D graphics card is the use of 2 Relay switch. It is said that 2 Relay switch were canceled in the end. I have not seen the real thing.
1.4 Diamond Multimedia
August 6, 1996 -- Diamond Multimedia Systems, Inc. at the Siggraph trade show announced it will begin offering its new Monster 3D™ graphics subsystem to OEMs looking to create high-performance PC gaming machines. Monster 3D is expected to begin shipping to OEMs this month, a retail version is planned for this Fall.

The release date of Diamond Monster 3D is later than October 3, 1996 of Orchid Righteous 3D.
1.4.1 Monster 3D BIOS version
Monster 3D was originally designed as BIOS version like righteous 3D, but it is commercialized.

1.4.1.1 Monster 3D Engineering sample
The following official image of Monster 3D is an engineering sample.
Monster 3D Engineering sample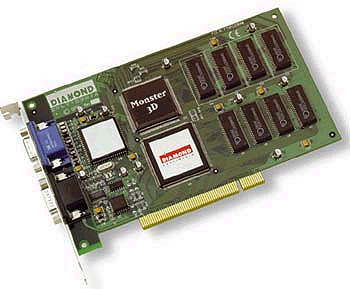 (From 3Dfx.cz)

1.4.1.2 Monster 3D Review sample
The FCCID of the Monster 3D graphics card: FTUPCI2184M, the time of passing the certification after inquiries is 08/26/1996 , 9635weeks. The official announcement date is August 6, which is 9632 weeks. The card below is a Monster 3D review version graphics card with a PCB date of 9630, which will be finalized before the official announcement. The date of the stamp on the PCB is 9634 weeks, indicating that this time has been made. On October 3, 1996 (9640 weeks), Orchid officially released the Voodoo card for the first time, and Diamond was later than this date.This card is a pre release version of Review Sample.
The two chips on this card are early silver paint, not ordinary white paint.
Monster 3D Review sample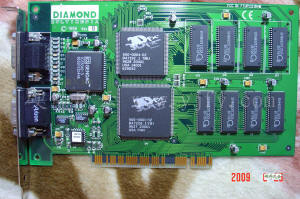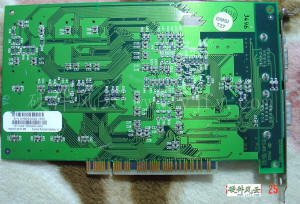 1.4.1.3 Monster 3D 1996 version
The officially released Monster 3D 1996 version cancels the BIOS chip.
Monster 3D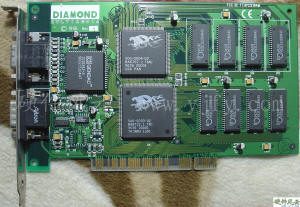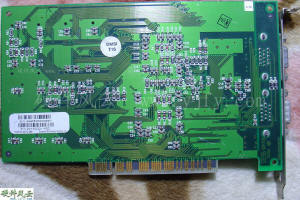 1.4.2 Monster 3D Triode version
Like orchid, diamond also developed the monster 3D triode version, but in the end, it abandoned the triode and simplified it to the monster 3D 1997 version. .
Monster 3D Engineering sample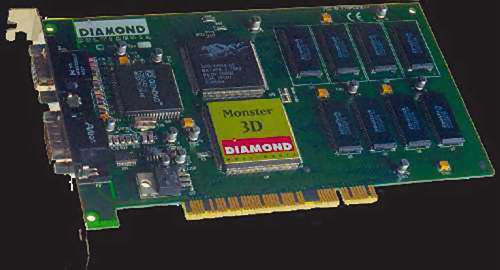 (From 3Dfx.cz)
1.4.3 Monster 3D 1997 version
Monster 3D 1997 version sold more.
Monster 3D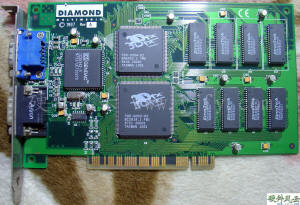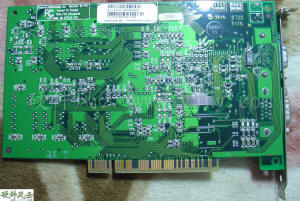 1.5 Skywell Technology

1.5.1 Magic 3D Plus
The graphics card that directly uses the 3Dfx Obsidian board type may only be Skywell except Quantum3D. Magic 3D Plus graphics card uses Obsidian pro with a simple design and 8MB video memory. There are very few Voodoo cards with 8MB of video memory. The most common ones are 4MB of video memory. There are not many cards with 6MB of video memory.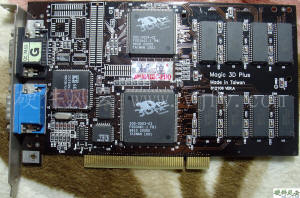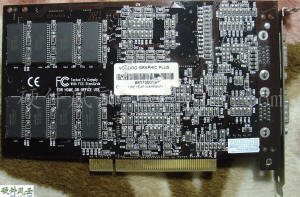 1.5.2 Magic 3D Plus1
The Magic 3D plus1 designed by skywell technology for 8MB video memory is also powerful.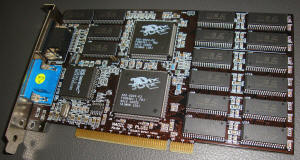 (From 3Dfx_Aslinger)
1.6 Village Tronic
1.6.1 3D Overdrive
Very alternative design, this Dual plane design may be inspired by Voodoo rush.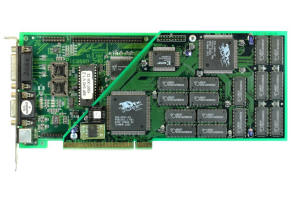 1.6.2 Mac Magic
MAC version of voodoo video card with 8MB video memory.
1.7 Canopus
6MB video memory, with video output and cooling fan, pure 3D is popular.
PURE 3D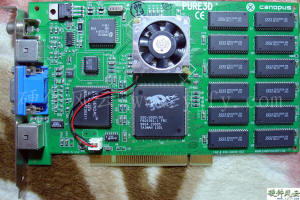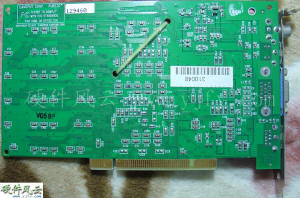 1.8 Viewtop
The voodoo card with 6MB video memory is worth collecting.
3D Vulcan G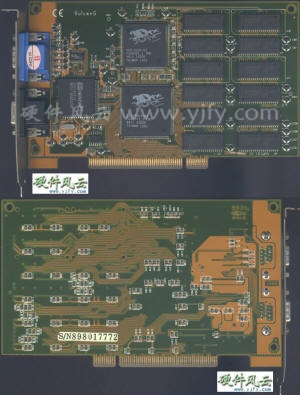 1.9 InnoVision
There are not many voodoo cards with video output in 4MB.
3DX5000TV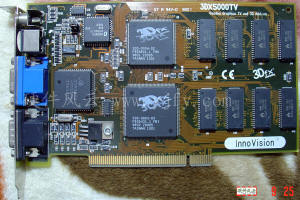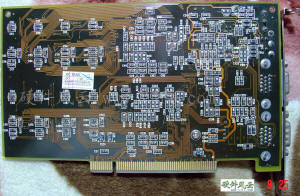 2.Voodoo Rush
COMDEX, Las Vegas, November 18, 1996 - 3Dfx Interactive announced Voodoo Rush, the next-generation of its critically-acclaimed Voodoo Graphics 3D technology. The product is a low-cost, 3D graphics solution which allows a seamless interface between the Voodoo Graphics chipset and Alliance Semiconductor's ProMotion-AT3D PC multimedia accelerator. In addition, Trident Microsystems, Inc., Macronix America, Inc., and Media Reality Technologies, Inc. have also announced their intention to strike strategic partnerships with 3Dfx similar to the current successful relationship with Alliance.
Voodoo Rush incorporates critical 3D features, such as triangle setup, Gouraud shading, bilinear and advanced filtering, Z-buffering, alpha-blending, level-of-detail MIP mapping, and perspective-correct texture mapping, which are essential for visually realistic texture-mapped entertainment and authoring applications. Moreover, Voodoo Rush simultaneously delivers these features with the triangle and fill-rate performance necessary to achieve 30-plus frames per second.
In addition to its core 3D capabilities, Voodoo Rush also supports unique special effects including texture compositing and morphing, sub-pixel correction, texture animation, and per-pixel MIP mapping and atmospheric effects such as transparency, fog, and haze. animation sequences.
January 6, 1997-3Dfx Interactive announced that Voodoo Rush will first be used by Hercules Computer Technology, Inc. to make Stingray 128/3D graphics cards.Other partners include Acclaim Entertainment, Diamond Multimedia, Hewlett-Packard Company, Falcon Northwest, Interactive Light, NEC Technologies, Micron, Orchid Technologies and Williams-Atari-Bally-Midway.
Voodoo Rush surpasses Voodoo in resolution, with a maximum resolution of 1600x1200. Due to the poor compatibility of the Rush chip, the 2D performance is mediocre. At the same time, there are some compatibility issues with the software in the 3D part. However, as 3Dfx's first graphics card that can work independently, the production volume that year was far less than Voodoo, still has a good collection value.
Pixel Processor TMU chip number 500-0004-02, 208 pins, still use Voodoo chip. Texture Processors changed from Voodoo's FBI to FJR, the chip number was changed from 500-0003-03 to 500-0005-04, and the number of pins was changed from 240 to 208.
Technical specification of Voodoo rush(SST-96):
Video memory capacity: 4/6/8MB (2/4MB Frame Buffer, 2/4MB texture buffer.)
Bus type:EDO RAM
Bus interface: PCI
Core clock:50 MHz
Memory clock:50 MHz
Triangle processing speed/s:0.8-1M
Pixels/s:45-50M
Textels/s:45-50M
Ramdac 180 MHz
Maximum resolution:1600x1200
Fab (nm):500 nm
2. 1 Dfx
The 2D Graphics chip of Voodoo rush is provided by Alliance Semiconductor and MXIC.
2.1.1 Alliance Semiconductor version
The earliest Voodoo rush graphics card was a Dual plane architecture with a 2D main card and Voodoo rush daughter card. The 2D main card uses Alliance Semiconductor Promotion AT3D/AT25 chip.
2.1.1.1 Dual plane
Voodoo Rush 4 MB prototype- Lower 2D PCB (manufactured by Alliance Semiconductor) with Alliance AT3D chip dated 9629weeks, upper PCB with Voodoo Rush chipset dated 9649weeks,PCB#600-0018-03.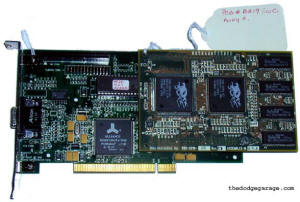 2.1.1.2 Single plane
The PCB date of this Voodoo Rush Single plane is 9725weeks. Voodoo rush graphics cards mostly use Single plane architecture.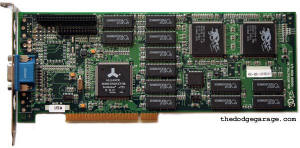 2.1.2 MXIC version
This Voodoo rush reference board is co-developed by Macronix International Co. Using the MX86251FC chip, the PCB date is 9732weeks. Voodoo rush using MXIC Graphics chip is less than using Alliance Semiconductor Graphics chip.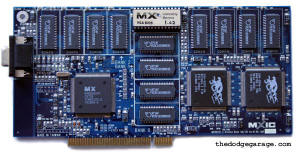 2.2 Hercules Computer Technology
Hercules Computer Technology, Inc. first cooperated with 3Dfx.

2.2.1 Stingray 128/3D Dual plane version
Stingray 128/3D Dual plane made some adjustments on the 3Dfx reference board. In April 1997, Stingray 128/3D released.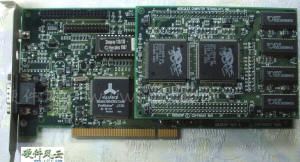 2.2.1 Stingray 128/3D Single plane version
This board type is developed independently. Mainly sold Voodoo rush graphics products.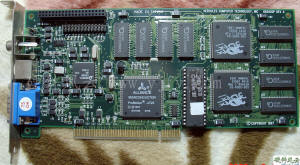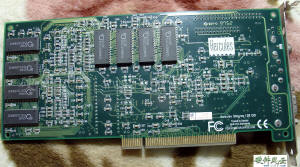 2.3 Orchid Technology
Orchid Technology was involved in the research and development of Voodoo rush very early, but the product failed to achieve the expected purpose and gave up retail.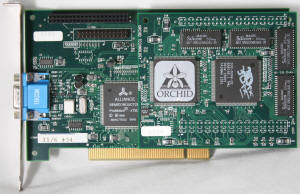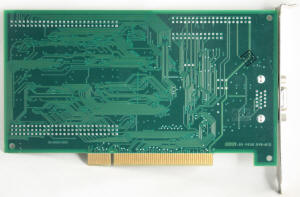 2.4 Diamond Multimedia
Diamond Multimedia also developed a Voodoo rush graphics card with its own characteristics very early, but gave up due to many problems.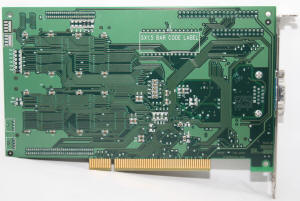 The above two unreleased and unsold Voodoo rush graphics cards are from the G1nX collection. G1nX is a top computer hardware collector and also has the earliest Obsidian green graphics card.
2.5 ViewTOP

2.5.1 Vulcan B3D-FX1
The main card is designed independently, and the daughter card adopts 3Dfx's reference design PCB#600-0018-03.
From tdfx.de

2.5.2 Vulcan B3D-FX2

2.5.2.1 Engineering sample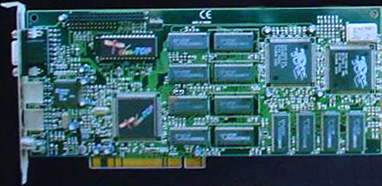 2.5.2.2 Official product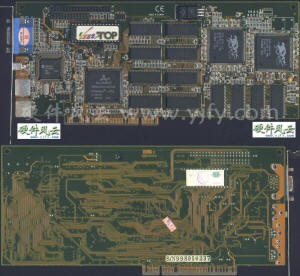 2.6 Quantum3D
Quantum3D Ventana graphics card has an expansion interface, you can install a VOODOO TMU daughter card (SHADE), which seems to be a Voodoo2 graphics card with 2D output.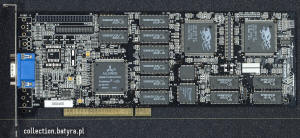 2.7 IO Data Equipment
Due to many problems with Voodoo Rush, there are very few independently designed Voodoo Rush graphics cards.
2.7.1 GA-ATVR4/PCI
GA-ATVR4/PCI is the research and development code, Engineering sample, and the date on the BIOS is September 16, 1997 (9738 week), which is the Voodoo rush that appeared later.
GA-ATVR4/PCI Engineering sample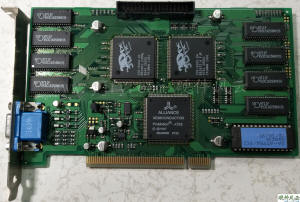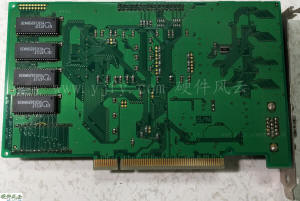 2.7.2 GA-RUSH6/PCI
GA-RUSH6/PCI is the official product model.
2.8 ELSA
Winner 2000AVI/3D-2 is based on Voodoo Rush's reference design.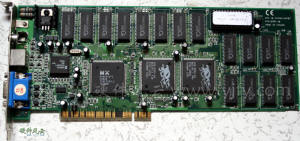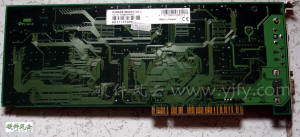 2.9 A-TREND
This ATC-2475 graphics card was disassembled from the same batch of brand machines, which indirectly proves how poor Voodoo Rush's 3D compatibility is.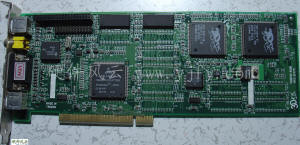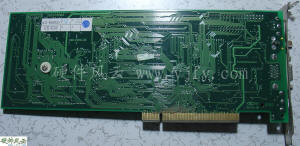 3. Voodoo2
November 3, 1997 -- – 3Dfx Interactive, Inc. announced Voodoo 2 Graphics.
Voodoo2 is an expandable architecture with a base configuration of a 192-bit memory architecture and 2.2 Gigabytes per second of memory bandwidth, delivering over 50 BOPS (Billions of Operations per Second). This configuration delivers an incredible 3 million triangles per second and 90 million dual-textured, bilinear-filtered, per-pixel MIP-mapped, alpha-blended, Z-buffered pixels per second, over three times the performance of the current Voodoo Graphics. Voodoo 2 contains a full floating-point hardware triangle setup unit for maximum triangle throughput on Pentium, Pentium Pro and Pentium II powered systems. Voodoo 2 is also an AGP-capable technology designed to utilize the higher bandwidth available through AGP and will support 3D games with resolutions up to 1024 X 768.
Voodoo2 is the most popular 3D graphics card that pushes 3Dfx to the top. The launch of Voodoo2 made 3dfx's dominance even more unshakable. At that time, the performance of Voodoo2 made it difficult for opponents to match. The Voodoo 2 chip consists of three independent processors, one for polygon processing and two for texture mapping.
Technical specification of Voodoo2 (SST-2):
Video memory capacity: 6 /8/12(2/4MB Frame Buffer, 4/6/8MB texture buffer.)
Bus type:EDO RAM
Bus interface: PCI
Core clock:90 MHz
Memory clock:90 MHz
Triangle processing speed/s:3M
Pixels/s:90M
Textels/s:180M
RAMDAC:110 MHz
Maximum resolution:800x600
Fab (nm):350 nm
3. 1 Dfx
Although the essence of the Voodoo2 graphics card is the optimization and upgrade of the Voodoo graphics card and the addition of a TMU chip, because the FBI chip pins are increased from 240 to 256, a special chip evaluation board is still needed.
3.1.1 Voodoo2 chip evaluation board
There is no early Voodoo2 chip evaluation board, but its board type should be close to Voodoo graphics card. Use one Pixel Processor (Texture map unit, code name "BrucE"), chip number 500-0006-03, 208 pins; One Texture Processor (Frame buffer unit, code name "ChucK"), chip number 500-0007-04 , 256 pins. The official chip number is 500-00010-01/500-0009-01.
This PCB is dated 9819Weeks and is an evaluation board for the late Voodoo2 chip. The chip number evaluated is 500-0012-31/500-0011-01. I just don't know how this new serial number has improved, why there is no mass production and sales.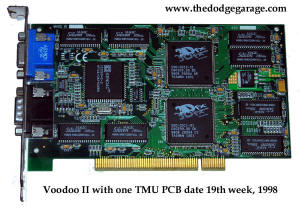 3.1.2 Voodoo2 reference board 6MB Earlier version
Voodoo2 graphics card released by 3Dfx in November 1997 is this version. The picture was published in "Next Generation"-Jan 1998. The chip date is 9741 weeks, between October 5-11, 1997, which is the day before the release of the Voodoo2 graphic card, an earlier version of 3Dfx used for test verification. There are two more examples of Voodoo2 graphic card SLI connection in the picture. This unique method of SLI also makes Voodoo2 graphic card the most memorable 3D graphic card.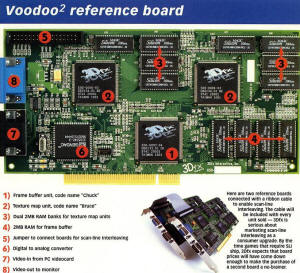 3.1.3 Voodoo2 reference board 6MB Late version
The Voodoo2 graphic card below has a chip date of 9746 weeks and a PCB board date of 9744 weeks. This version is a relatively mature reference design, which is used by Diamond and Creative to make Voodoo2 graphic card. Because the 6MB version of Voodoo2 graphic card has only a 640x480 resolution flaw, Imperial Diamond and Creative have wasted almost three months and had to give up.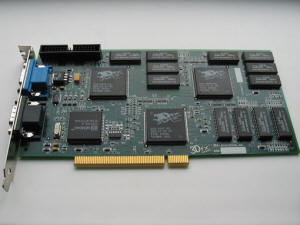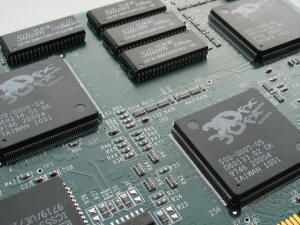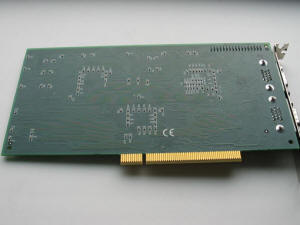 From www.thandor.net
3.1.4 PCB#600-0027-01 version
This is the 8 / 12MB version of the Voodoo2 graphics card test verification version, no outflow. Supported the mainstream 800x600 resolution at the time, and the SLI connection supported 1024x768 resolution.

3.1.5 PCB#600-0027-02 version
Diamond and Creative both use this reference board to make Voodoo2 graphics cards. After that, many manufacturers also directly used this design to make Voodoo2 graphics cards. The reference board of the drawing is the Rev 2 version, the PCB date is 9808 weeks, and the chip date is 9803/9806 weeks.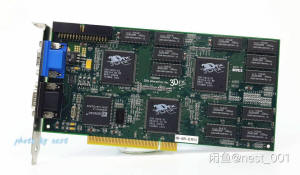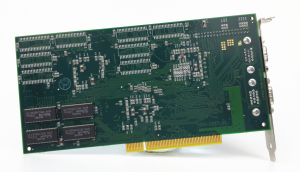 From nest

3.1.6 PCB#600-0027-03 version
The chip date on this reference board is 9816/9821 weeks, and the PCB date is 9828 weeks. This version uses less material, and there may not be any improvement in performance. However, it was adopted more by manufacturers who entered Voodoo2 graphics card manufacturing later. Creative did not use this version, but Diamond did some circuit optimization earlier.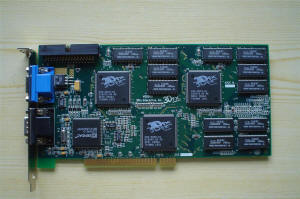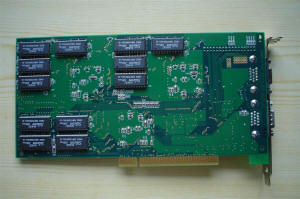 From tdfx.de


3.1.7 PCB#600-0028-01
3Dfx has developed the AGP version of Voodoo2 graphics card as scheduled, PCB DATE 9810weeks. Just Unreleased board.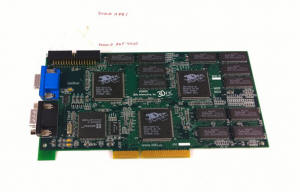 3.1.8 V2 1000
3Dfx originally did not intend to enter the Voodoo2 graphics card market, but when it acquired STB Systems on December 14, 1998 to prepare for the sole production and sale of Voodoo3 graphics cards, it may be possible to see STB's ready-made BlackMagic 3D production lines and semi-finished products. While Voodoo2 graphics cards still have a market, they will continue Produced BlackMagic 3D, but changed its name to V2 1000.

3.1.8.1 STB BlackMagic 3D
STB has strong R & D capabilities as an old-fashioned graphics card manufacturer. The Voodoo2 graphics card with a changed design uses electrolytic capacitors.

3.1.8.1.1 Engineering sample
The production date of the BlackMagic 3D Engineering sample is April 8, 1998. The practice of labeling "NOT FOR RESALE" on engineering samples is adopted by 3Dfx.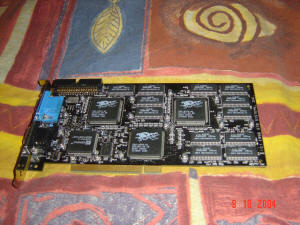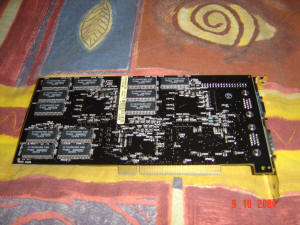 From Torch

3.1.8.1.2 Official product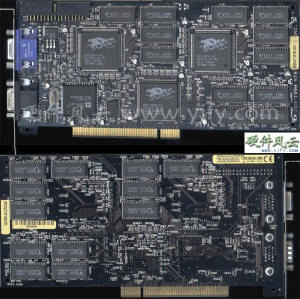 3.1.8.2 3Dfx V2 1000
3Dfx approved the design of STB BlackMagic 3D. Only upgrading the original double-sided 24 tablets of 0.5MB video memory to single-sided 12 tablets of 1MB video memory produced V2 1000, and even the reserved space of the rear video memory was not cleared.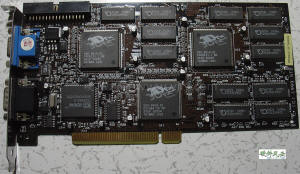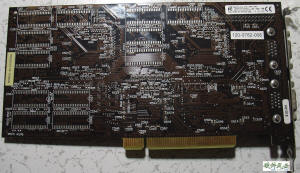 3.2. Creative Labs
December 1, 1997 Creative Labs announced 3D Blaster Voodoo2. January 20, 1998 Creative Labs first vendor to release Voodoo 2 on public.
Creative graphic cards have a six-digit product version number, the first two digits are the version and the last four digits are the production date (week). The following describes these 3D Blaster Voodoo2 graphic cards based on the Creative product version number.

3.2.1 3D Blaster Voodoo2 00974? version
The promotional image on this Creative 3D Blaster Voodoo2 box is the 6MB version. In fact, it is an engineering sample made directly using the 3Dfx Voodoo2 reference board 6MB later version.


From www.thandor.net

3.2.2 3D Blaster Voodoo2 00975? version
Creative Labs 3D Blaster Voodoo2 engineering samples made based on 3Dfx's 600-0027-02 reference board, no physical picture was found.

3.2.3 3D Blaster Voodoo2 019804 version
Creative Labs 3D Blaster Voodoo2 graphics card announced the date is January 20, 1998 (9804 weeks). On February 20, 1998 (9808 weeks), the 12MB version of Voodoo2 graphics card was released first.

3.2.3.1 Review sample
This 3D Blaster Voodoo2 was first sold, and part of it was recycled due to a bug in the chip. The chip date is very early 9803/9801 weeks, which is earlier than the chip on the 3Dfx reference board, and the PCB board date is 9808 weeks; this card does not indicate the product version number and product model, and the product serial number is different from other retail cards.
3D Blaster Voodoo2 Review sample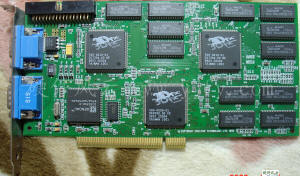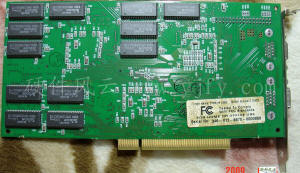 3.2.3.2 12MB
The product version number "019804" in the lower left corner of the front of the graphics card indicates the "01" version, and the finalization date is "9804" week. The PCB board date of this 3D Blaster Voodoo2 is 9807 weeks, which is the earliest production date of the official product PCB board, and the chip date is 9803/9804 weeks.
3D Blaster Voodoo2
3.2.3.3 8MB
The above two early versions have the label 600-0027-02 on the back, which means that the design comes from the 600-0027-02 reference board of 3Dfx. The common version cancels this mark.
3D Blaster Voodoo2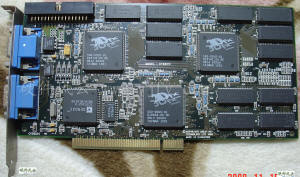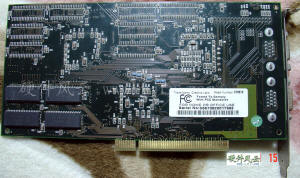 3.2.4 3D Blaster Voodoo2 029827 version
The second version of the Creative does not see any obvious changes, but only the codes FM1 to FM13 are printed, I do not know what they represent.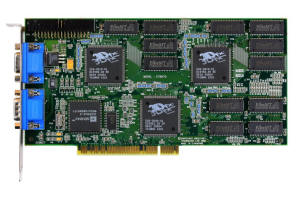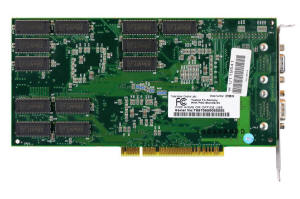 From www.tdfx.de
3.3 Diamond Multimedia
Diamond Multimedia has established a good relationship with 3Dfx since the Voodoo era. In the Voodoo2 era, Diamond always got the 3Dfx reference board before Creative, but it was Creative half a second slower in marketing. Perhaps the imperial alliance of that period was too much for perfection.
Each version of Monster 3D II has a Part No., which I will discuss separately based on Part No. below.

3.3.1 Monster 3D II 22150105-003 version
Diamond obtained the 3Dfx Voodoo2 reference board 6MB later version and developed its own version. The picture below is the earliest engineering sample of monster 3D II.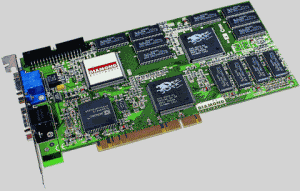 From www.3Dfx.cz

This version was not released in the market but was distributed in small quantities. The picture below is from the graphics card of "Diamond Monster 3D II-More Than a Worthy Successor" (Thomas Pabst). The text says "After the literally cool Diamond Monster Party (at freezing 4 degrees centigrade) in Paris on January 29, 1998, I was lucky enough to be one of the few that returned home with a Monster 3D II in my hand luggage."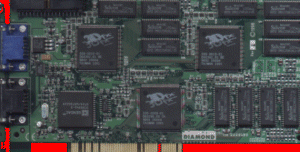 From www.tomshardware.com

3.3.2 Monster 3D II 22150105-004 version
3Dfx then released the 8 / 12MB version. In order to hurry, Diamond cloned directly to the 004 version.
"Monster 3D II USER'S GUIDE" is attached with the FCC certification of Monster 3D II, and has passed the Monster 3D II certification submitted by Diamond on February 13, 1998 with Part No. 22150105-004.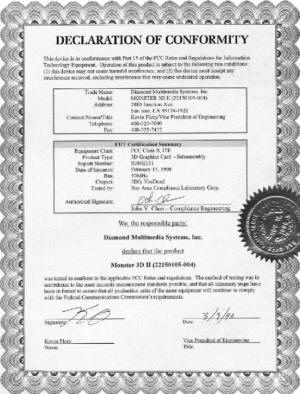 3.3.3 Monster 3D II 22150105-005 version
February 2, 1998 Diamond announced Monster 3D II .The Monster 3D II was the first Voodoo2 board ever technically reviewed. The technical review was passed on March 9 before the release of Monster 3D II.

3.3.3.1 Monster 3D II Engineering sample
"Monster 3D II USER'S GUIDE" also contains pictures of engineering samples of Monster 3D II REV 1.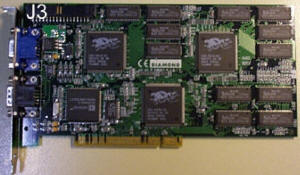 3.3.3.2 Monster 3D II Qualification Sample
The PCI interfaces of the above two Monster 3D II engineering samples are not all gold fingers, but the PCI interface of the Monster 3D II graphics card in the official announcement of the Emperor League is Full PCI connection finger. The Voodoo2 chip date on the card is 9803/9804 weeks.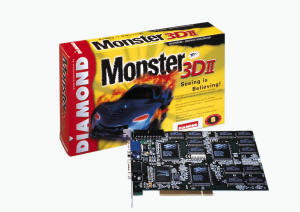 From 3dfx.ch

3.3.3.3 Monster 3D II Review sample
The Monster 3D II full gold finger version PCB date is 9808, and the chip date is 9804, which is a Review sample.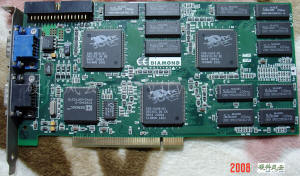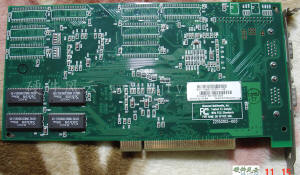 3.3.3.4 Monster 3D II 8Mb
The first version of the Diamond is 8MB. This version is not significantly different from the 3Dfx reference board, except that there are two pairs of rectangular marks on the back of the card. The earlier 9808/9809 week versions were compared with the 3Dfx reference board and later Monster 3D II versions, with one R99 resistor less.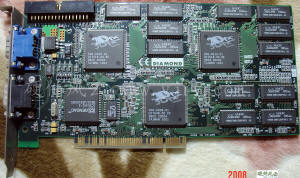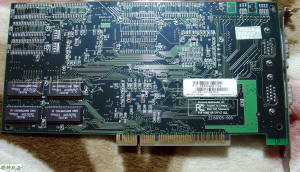 3.3.3.5 Monster 3D II 12Mb
Diamond released a 12MB version later.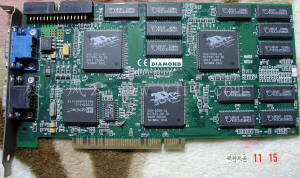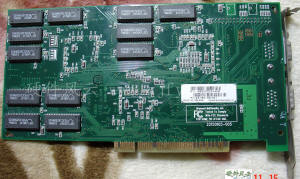 3.3.3.6 Monster 3D II SLI secondary card
Diamond also sold a unique SLI dedicated secondary card for two Voodoo2 card SLI.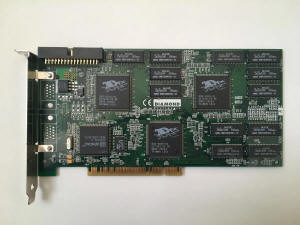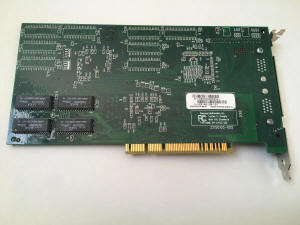 From LOOP123

3.3.4 22150105-006 version
This version is less, but there is no major change from the previous version. The only visible difference is the choice of the two rows of resistors on the left of the "Rev" logo. It seems to be a jumper that can support overclocking to 110MHz. The annotation of "XJXJ2" has also been cancelled.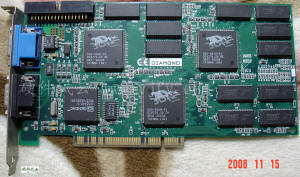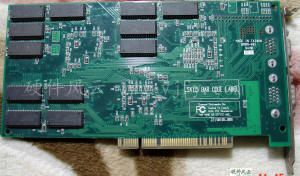 3.3.5 22150105-008 version Engineering sample
This version is an Engineering sample that adjusts the circuits near the SLI interface. Maybe the upgrade is limited and it is not officially mass-produced. The PCB date is 9818 weeks. It can be seen that after the sale, Diamond has been tirelessly optimizing. Diamond and Creative are really going at two extremes.
3.3.6 22150105-007 verison
This version lacks information and can only be speculated and placed behind version 008. According to version 008, it is speculated that version 007 is a simple adjustment to the circuit on the left of the version number on the back of the card. However, this adjustment had little effect. Only one R12 resistor was retained in the 008 version, and it was abandoned in the 009 version.

3.3.7 22150105-009 version
This version is the least, it is based on the absorption of the 008 version of the correction to enhance the low-pass filter circuit, I do not know how much effect on image quality improvement. But Diamond 's continuous enterprising spirit in pursuit of product performance improvement is particularly respectable.
3.4. Quantum3d
Quantum3d Obsidain2 200SBi- Two Voodoo2's in SLI mode on one PCB.


3.5 IO Data Equipment
IO Data Equipment GA-VD2/PCI-1,The longest and fullest Voodoo2 graphics card.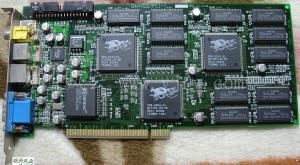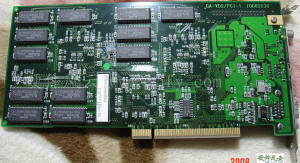 3.6 Canopus
Canopus PURE 3D II is the smallest Voodoo2 graphics card with video output and a cooling fan.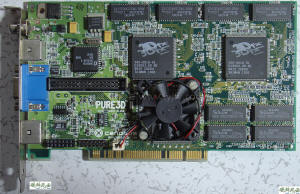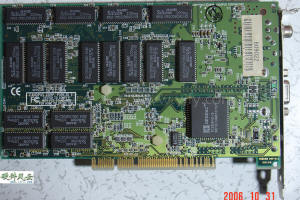 3.7 Micro Conversions
Micro Conversions Game Wizard is version for Apple computers using DB15 video output.
3.8 Procomp
The design of Procomp G111 that can expand 8MB of video memory to 12MB is very challenging.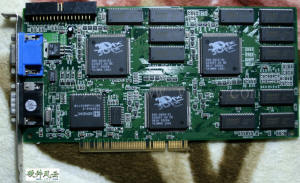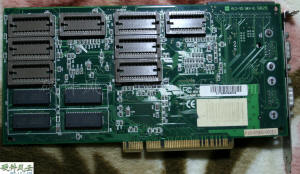 3.9 Triplex
PCB#600-0027-02B of Mohock 3D II seems to be a reference board specially designed by 3Dfx for single-sided video memory version. The logo of the chip is changed from "3Dfx" to "3dfx", the chip date is 0005 week/0007 week, and the PCB date is 0010 week. On this date, Voodoo5 will be available for sale.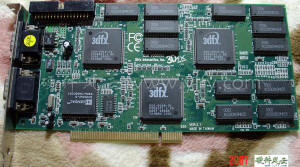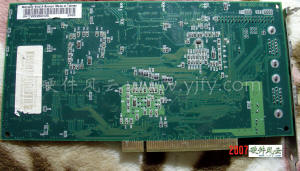 4.Voodoo Banshee
June 22,1998 - 3DFx Interactive, Inc introduced Voodoo Banshee.Voodoo Banshee is 3Dfx' first combined 2D/3D solution comes with typical 3Dfx-features. It supports the well known and widely used Glide engine, 3Dfx' proprietary 3D engine that is very easy to program and using only pretty little CPU power. This makes Banshee the only 2D/3D chip that can take advantage of all the game titles using Glide. Banshee comes in a PCI as well as AGP version, but the AGP version is only able to take advantage of AGP's faster DMA bandwidth. Banshee is not at all able to use any of the real AGP features like AGP texturing, AGP 1x or 2x.
Voodoo Banshee and Voodoo2's 3D core are very close, however with two major differences. Banshee has only got one texture unit as opposed to two texture units in Voodoo2. This means a disadvantage for Banshee in games that are using a feature called `multi texturing' .
On the other hand is Banshee running at a higher core clock than Voodoo2, resulting in a higher fill rate, which makes games that don't use `multi-texturing' run faster on Banshee than on a single Voodoo2.
The 3D quality of Voodoo Banshee is identical to Voodoo2, meaning that it doesn't have a more than 16 bit deep Z-buffer and cannot do real 32-bit color rendering either.
Technical specification of Voodoo Banshee:
Video memory capacity:8/16MB
Bus type:SDRAM/SGRAM
Bus interface: PCI/AGP
Core clock:100 MHz
Memory clock:100 MHz
Triangle processing speed/s:4M
Pixels/s:100M
Textels/s:100M
RAMDAC:250 MHz
Maximum resolution:1920x1440
Fab (nm):350 nm
4.1 3Dfx
4.1.1 Voodoo Banshee Chip Evaluation Board
4.1.1.1 PCB#600-0033-03
This is the middle and late Banshee chip evaluation board, the PCB date is 9824weeks, and the AGP interface.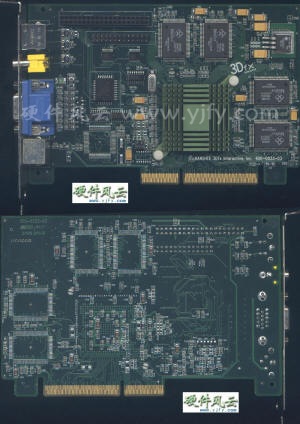 The chip is 500-0008-04, the date is 9823weeks, and it is packaged in a 0.35 micron BGA.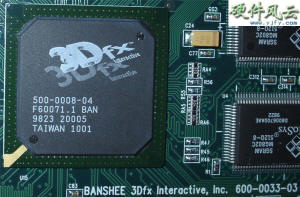 4.1.1.2 PCB#600-0034-03
This is the Voodoo Banshee chip evaluation board in the middle and late stages of the PCI interface.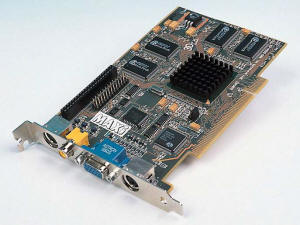 From 3dfx.cz
This 3Dfx graphics card was labeled with Maxi Gamer Phoenix graphics card by Guillemot International as an official promotional image. Guillemot International actually uses PCB#600-0034-04 reference board.
4.1.2 Voodoo Banshee Reference board
Voodoo Banshee reference boards have many types, mainly the following four types.

4.1.2.1 PCB#600-0035-03
AGP interface, 16MB SDRAM video memory, PCB date 9834 weeks. The chip is the official version 500-0013-03, and the date is 9835weeks.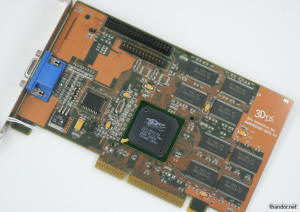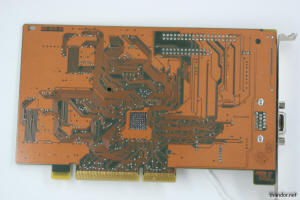 4.1.2.2 PCB#600-0043-01
AGP interface, 16MB SGRAM video memory, 9835weeks, chip is 500-0013-04, date is 9849weeks.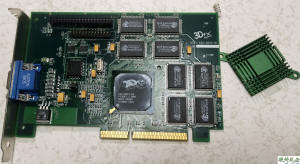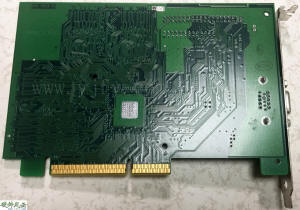 4.1.2.3 PCB#600-0044-02
PCI interface, 16MB SGRAM video memory, PCB date 9836 weeks.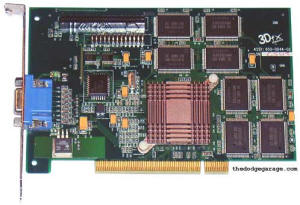 4.1.2.4 PCB#600-0045-01
PCI interface, 16MB SDRAM video memory. Seen in Osckhar's collection, his 3Dfx graphics card engineering samples are complete. After all, he took over the 3Dfx museum, starting with the earliest Obsidian green version of the 3Dfx engineering sample graphics cards.
4.2 Creative Labs
Creative Labs first to release 3Dfx Banshee chip graphics card-3D Blaster Banshee, shipped at the end of September 1998 (9840 weeks).

4.2.1 3D Blaster Banshee PCI
The first 3D Blaster Banshee PCI on sale uses the 3Dfx PCB#600-0045-01 reference board, and it is finalized in 9834 weeks.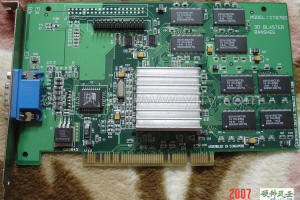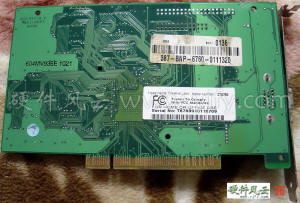 4.2.2 3D Blaster Banshee AGP
The 3D Blaster Banshee AGP, which will be released later, is a self-designed version and the only 3Dfx chip graphics card independently designed by Creative Labs.

4.2.1.1 Engineering sample
The finalization number of this engineering sample is 009829, which is finalized in the 29th week of 1998. The PCB date is 9837 weeks.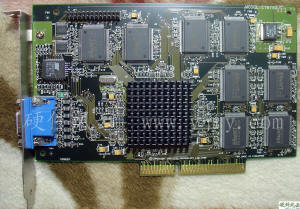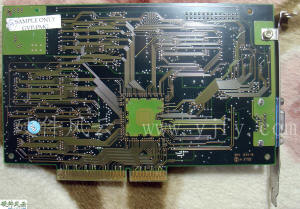 4.2.1.2 Official product
4.3 Diamond Multimedia
The initial design of Monster Fusion series graphics cards is based on 3Dfx reference boards, and there are also independent designs. Two versions were finally mass-produced. It went on sale in early November 1998.

4.3.1 Monster Fusion AGP
Partially adjusted based on 3Dfx PCB#600-0043-01 reference board.
4.3.1.1 Engineering sample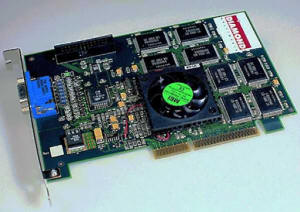 4.3.1.2 Qualification Sample
4.3.1.2.1 REV 2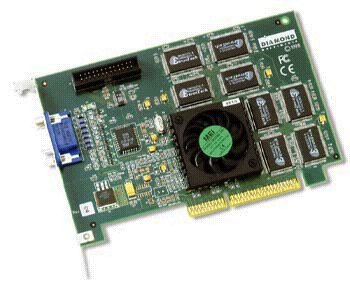 3dfx.cz
4.3.1.2.1 REV 4 BIOS V1.00E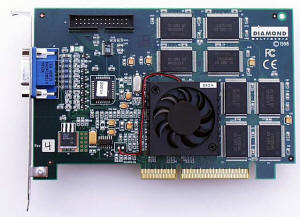 From pc.watch.impress.co.jp

4.3.1.2.1 REV 4
PCB date is 9835 weeks.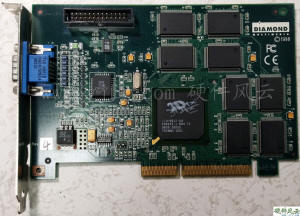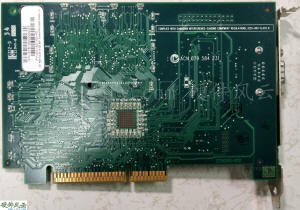 4.3.1.3 Official product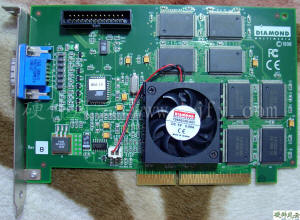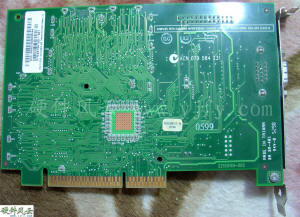 4.3.2 Monster Fusion PCI
4.3.2.1 Engineering sample
This is a castrated version of 3Dfx's PCB#600-0034-03 version. But this SGRAM version was finally abandoned, and the self-designed SDRAM version was enabled.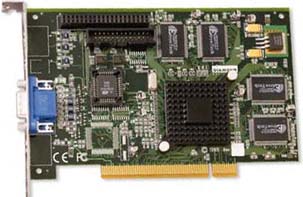 4.3.2.2 Official product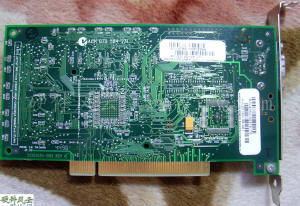 4.4 Quantum3D
Quantum3D Raven graphics cards are common, based on the 3Dfx Banshee reference design.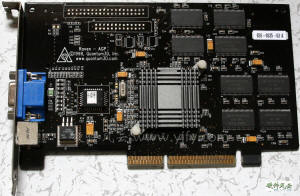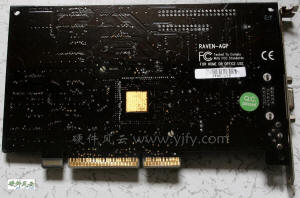 4.5 ASUS
ASUS Banshee graphics card is VIVO design, video output is cancelled at retail, as is the high-end AGP-V3200/16M.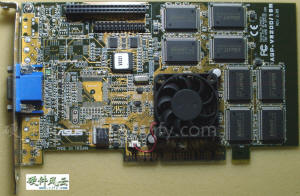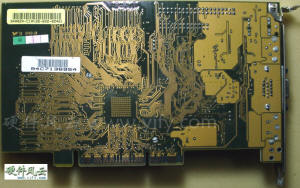 4.6 IO Data Equipment
GA-VDB16/PCI-1 has a unique design.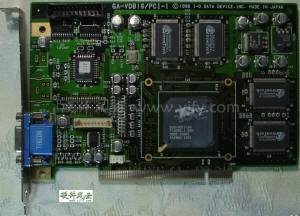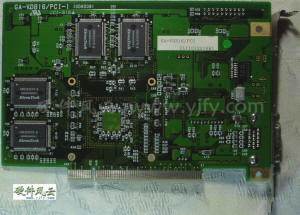 4.7 PMC Ltd
Banshee graphics cards have a video output design, but there are very few cards that really have video output. The Pace3D edge graphics card is directly made with the PCB#600-0033-03 evaluation board.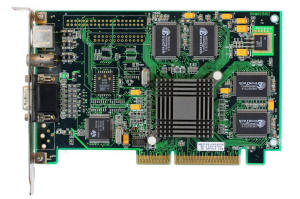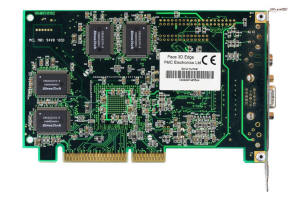 4.8 Village Tronic
MP850 is Apple's Banshee graphics card with bright colors.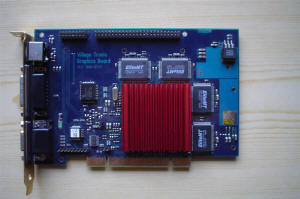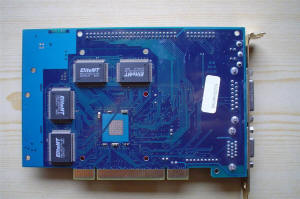 4.9 STB
4.9.1 Lightspeed 3300 review sample
This PCB marked Pc2A Lightspeed 3300 graphics card is undoubtedly a review sample, the PCB date is 9841 weeks, and the graphics card production date is 9842 weeks. The BIOS version is 1.2, and the official version is 1.5.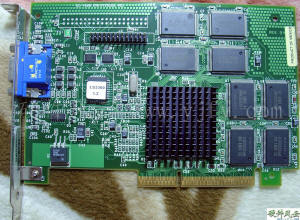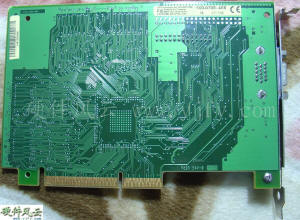 4.9.2 Lightspeed 3300
The production date of the Lightspeed 3300 graphics card below is 9906 weeks. After 3Dfx acquired STB, it still sells Lightspeed 3300 graphics cards to fill the transition period before Voodoo3 retail.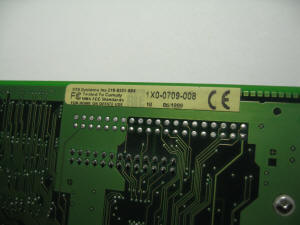 STB is an important partner of nVidia. From the first launch of Riva128 chip graphics card to the era of riva TNT graphics card, it has a very close relationship with nVidia. The cooperation with 3Dfx is relatively plain. On February 20, 1998, Creative Labs first released the Voodoo2 chip graphics card. STB's Voodoo2 chip graphics card was still in the engineering sample stage on April 8. At the end of September 1998 (9840 weeks) Creative Labs Voodoo Banshee chip graphics cards had already been shipped. At 9842 weeks, STB Voodoo Banshee chip graphics card is still a review sample. The acquisition of STB by 3Dfx on December 14, 1998 (9851 weeks) may have the purpose of suppressing nVidia, but it was mainly to create a grand blueprint for the post-Voodoo era.
Related links:History of 3Dfx Graphics cards Vol.2